No hard feelings for former coach Crean at MU's Centennial Hoopla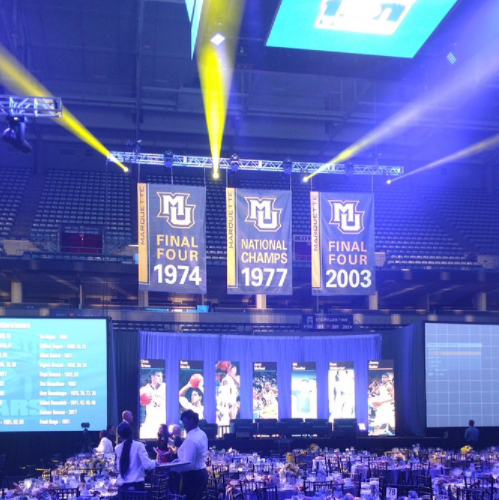 Nearly eight years, 2,863 days and over 125 Marquette men's basketball home games.
That's how long it has been since former head coach Tom Crean's last visit to the BMO Harris Bradley Center. The arena even went by a different name the last time he was there. Ever since then, Marquette fans booed every time his picture would appear on the Jumbotron during the pregame "Remember the Titans" video.
"I've been booed in this building," Crean said. "There's no question about that."
Crean reset 2,863 back to zero Friday, returning to the Bradley Center for Marquette's Centennial Hoopla, a celebration of men's basketball's 100-year history.
As emcee Jay Bilas talked about loving Marquette's jerseys as a kid, dining with Al McGuire and working with Rick Majerus — all greeted with affable applause and laughter — Bilas' mention of Crean garnered the same light-hearted reception. The applause for Crean was just part of a warm homecoming for the head coach of Marquette's 2003 Final Four run.
"He made me realize what leadership was," former Marquette player and current Chicago Bull Dwyane Wade said via video. "What my job was on that team."
"He was really the guy that got us into the BIG EAST," former university president Fr. Wild said. "That was huge."
Bilas had a similarly high view of Crean, who he described as a "close friend and mentor," and "someone I've been able to call for advice."
"I count him among my very good friends," Bilas said of Crean. "He's got an unbelievable heart and obviously did a magnificent job when he was here for those nine years."
"When they went to the Final Four in 2003, I did a lot of games of Marquette's," Bilas said. "The great players that they had and the amazing culture — Tom was the biggest reason why … I learned all about what a winning culture is when I visited here and got to see Tom Crean and his team and watch them practice, watch them work and get into their scouting meeting."
Crean had a chance to revisit some of those games when Travis Diener, a guard who played during the Crean era from 2001-'05 and Marquette's current director of player personnel, picked his former coach up from the airport.
"Travis Diener picked me up today and brought us over here and we've already recanted about 10 things in a short period of time," Crean said. "That's great."
"We pull up at the Intercontinental Hotel," Crean recalled. "That's where we stayed at when we were at Michigan State the year that we went to the Final Four … When you're around family and when you're around people that really mean something to you, you kind of just pick up right where you left off."
Crean also had the opportunity to see kids of players for the first time and see kids he recruited as adults. "They're not bittersweet," Crean said. "They're awesome."
"I have nothing but great memories," Crean said. "Because even the tough days shaped us to get us to some great memories."
NOT JUST ONE PERSON, BUT A BROTHERHOOD
As Marquette commemorated 100 years of basketball, camaraderie was a major point of emphasis.
"No one is bigger than the program and the university," Crean said. "But everyone that was a part of it helped make the program what it is."
Former player and current NBA star Wes Matthews referred to his bond with teammates as a brotherhood.
"Those are my brothers," Matthews said. "I'm trying to get them to come to my place in Madison (Saturday). We always talk and we're always in communication."
Jerel McNeal, a four-year teammate of Matthews, saw the Hoopla as a chance to catch up with people that are harder to reach.
"Guys live all scattered throughout the country," McNeal said. "A lot of these guys you don't get to see as often. I know there are a couple guys I'm really looking forward to meeting."
BILAS AND WOJO'S FRIENDSHIP TAKE CENTER STAGE
Wojciechowski said before the event that it only took one call for Bilas to agree to emcee the event. That friendship was evident Friday.
"I don't know a better person than Steve Wojciechowski," Bilas said as he introduced the fellow Duke graduate. "And I certainly don't know a better leader of young men."
"Yeah, it was a really in-depth process," Bilas said sarcastically. "He called me and asked me and I said, 'Sure, absolutely.'"
"I've known Steve Wojciechowski since he was a freshman at Duke," Bilas said. "I have admired him from the beginning and loved him from the beginning. We've been great friends ever since."
Bilas also took shots at Wojo's height.
"Steve Wojciechowski has a lot of notables," Bilas said. "He was obviously a very well known player but he happens to be the only coach in America whose bobblehead doll is actual size."
He referenced Val Ackerman's focus group on how well known BIG EAST coaches were following the conference's reformation in 2013.
"It turns out more people were familiar with the seven dwarves than were familiar with the BIG EAST coaches at the time," Bilas said. "The interesting part is Steve Wojciechowski's name was on both lists."
Wojo returned the favor during his speech.
"Jay, thank you for being here," Wojciechowski quipped. "Just want to let you know your Uber is outside waiting to take you to the bus station and we all wish you a very safe trip home. Who needs enemies when you have friends like that?"
BEATING BUCKY REMAINS A TOP PRIORITY
Wes Matthews played on teams with winning BIG EAST records during each of his four years at Marquette. He then went on to the NBA, where he just finished his eighth overall year and second as a member of the Dallas Mavericks.
Yet the Madison, Wisconsin native counts beating Marquette's in-state rival among his greatest achievements.
"If I have to think of one (favorite memory) off the top of my head, it'd probably be beating Wisconsin," Matthews said. "I'm an anti-Badger."
McNeal echoed Wes' love for beating the Badgers.
"Beating Wisconsin is always fun," McNeal said. "Especially for (Matthews). We obviously always played a little bit harder to try to get him the win so that he wouldn't have to hear about it."
Former player Gene Berce had a slightly different relationship with Wisconsin.
"Originally when I got out of high school, I wanted to go to Wisconsin," Berce said. "That's not good news, is it?"
"(Wisconsin) said, 'Come on out and try to make the team,'" Berce added. "I wasn't too impressive for being under six-foot compared to the way players are now."
Leave a Comment