Summer update: Men's lacrosse sends two to pros, Haak joins volleyball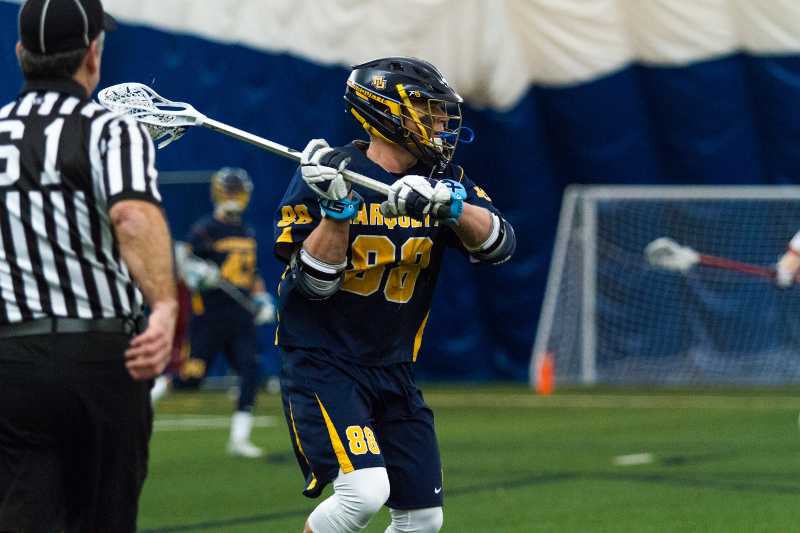 Ryan McNamara, Andy DeMichiei go pro
There aren't many programs that have more professional alumni than total seasons. Sunday afternoon, Marquette lacrosse became one of them.
Attackman Ryan McNamara and midfielder Andy DeMichiei were both taken in the Major League Lacrosse draft. McNamara was selected in the sixth round by the Rochester Rattlers, who also have former Marquette attackman Conor Gately on the roster. DeMichiei had to wait a bit longer; the Ohio Machine took him with the 90th overall pick in the draft's ninth round.
Marquette now has six active players on Major League Lacrosse rosters despite only starting competitive play in 2013.
Ryan McNamara and Andy DeMichiei joined an impressive list of #mulax players in the MLL on Sunday.

Release: https://t.co/XE99Ga6XWz pic.twitter.com/kyB21fgOl3

— Marquette Lacrosse (@MarquetteMLax) May 28, 2017
McNamara led Marquette in points for the last two seasons and holds the program record with 102 career goals, which is 25 more than the second-place Gately.
DeMichiei provided the Golden Eagles with versatility by playing both the attack and midfield positions. He made the All-BIG EAST second team his senior year.
Anna Haak joins crowd of volleyball newcomers
Marquette women's volleyball announced Wednesday that junior outside hitter and University of Miami transfer Anna Haak would be joining the 2017 team. She is the ninth new player on next year's roster, which is by far the most Marquette has ever had under fourth-year head coach Ryan Theis.
"Anna comes with quite a bit of experience in both international and collegiate volleyball," Theis told GoMarquette.com. "She is a great addition to a young squad and has great passion for the game that will excite our players."
Haak, who hails from Angelholm in southern Sweden, averaged 3.21 kills per set last year, good for second on the team. However, she posted hitting percentages of under .200 and error rates above 17 percent in each of her two years as a Hurricane.
Signing Haak gives Theis one more option to replace all-conference outside hitter Taylor Louis, who transferred to Iowa. Haak will compete for time with freshmen Kortlyn Henderson and Hope Werch as well as sophomore Madeline Mosher.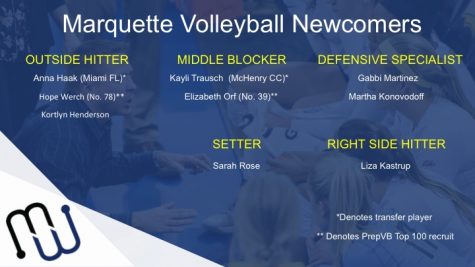 Women's soccer schedule releases
The 25th anniversary of Marquette women's soccer will get off to a jarring start when last season's No. 1 overall tournament seed Stanford visits Milwaukee Aug. 18.
Stanford is one of three reigning NCAA Tournament teams on Marquette's 2017 schedule. Illinois State comes to Valley Fields Sept. 14 while Georgetown, who beat Marquette in the BIG EAST title game last year, looms Oct. 19 in Washington, D.C.
Marquette is scheduled to play 10 of 19 games at home, with seven of them coming after classes start Aug. 28. The full schedule can be found here.
Women's soccer won a share of the BIG EAST regular season title last year with a 7-2 mark in conference. That was also good enough to secure an NCAA tournament berth, the club's first since 2013.
Quick hits
Class of 2018 shooting guard Torrence Watson included Marquette on his final list of eight schools. Two other BIG EAST programs, Butler and Creighton, are also on the list. Watson previously told the Wire's John Steppe that he intends to take official visits this August.
The 2016-'17 athletics season officially concluded last weekend as none of Marquette's four track and field athletes at the NCAA West Prelims qualified for nationals. For more details, read the Wire's recap.
Purdue power forward and All-American Caleb Swanigan announced that he will be entering the NBA Draft, which should make Marquette less of an underdog in the Gavitt Tipoff Games. Fellow Boilermaker Vince Edwards has announced his intentions to return to school.