Summer update: Gavitt game announcement, Tori McCoy and more
MEN'S BASKETBALL TO FACE PURDUE IN GAVITT GAME
Marquette will host the Purdue Boilermakers at the BMO Harris Bradley Center as part of the annual Gavitt Tipoff Games between the BIG EAST and Big Ten, CBS Sports reported. The game will be Tuesday, Nov. 14.
Purdue was a potent team last year. The Boilermakers finished 27-8, won the Big Ten's regular season title and made it to the Sweet 16 before losing to Kansas.
Star sophomore Caleb Swanigan led the Boilermakers in both scoring and rebounding, averaging 18.5 points per game and 12.5 rebounds per game. Swanigan declared for the NBA Draft in April but did not hire an agent, which means he could still return to school. He must make his decision by Wednesday.
History does not favor Marquette in this matchup, as the Boilermakers hold the 8-0 series edge. The teams have not played in almost 50 years.
Click here for the full 2017 Gavitt Tipoff Game schedule.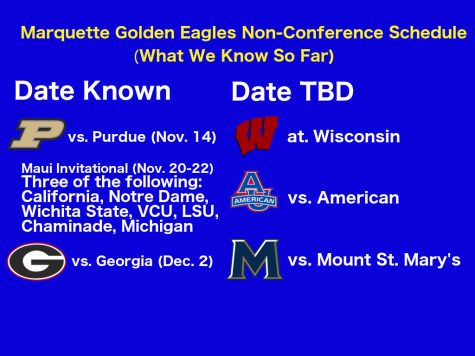 WOMEN'S BASKETBALL GAINS MCCOY, LOSES GIBSON AND MANDEL
The news of Ohio State guard Tori McCoy's transfer to Marquette has been public knowledge since McCoy's father announced it via Twitter almost three weeks ago. Marquette officially welcomed McCoy, a former Top 10 recruit, last week. She will have three years of eligibility left after sitting the 2017-'18 season out.
#muwbb is excited to welcome transfer Tori McCoy to the family! https://t.co/RkTiW81P8b 💙💛🏀 pic.twitter.com/q3SgcSLsgI

— Marquette WBB (@MarquetteWBB) May 17, 2017
There wasn't initially a scholarship spot available for McCoy in 2017-'18 or 2018-'19, but those spots opened because of two players leaving the program: redshirt junior Chelsey Gibson and freshman Meghan Mandel.
Gibson completed her degree at Marquette and will spend her last year of basketball at Troy as a graduate transfer. She came to the program as a junior college transfer from Gulf Coast State and spent all of 2015-'16 inactive with an ACL tear. A deep guard rotation left Gibson with scarcely more playing time last year: only 3.6 minutes per game.
Mandel, a 6-foot-4-inch center, also did not fare well in terms of playing time. She only saw 24 minutes of court all year, the least among active Marquette players.
FOUR TRACK AND FIELD ATHLETES COMPETE IN NCAA WEST PRELIMS
Only one Marquette sporting event remains on the calendar until the 2016-'17 season can officially come to a close.
Four track and field athletes – seniors Brittney Feivor and John Krzyszkowski, junior Jessica Parker and freshman Daniel Armstrong ­– will compete in the NCAA West Prelims in Austin, Texas this weekend. It is the sixth consecutive year that at least four Marquette athletes have gone to regionals.
Each athlete needs to finish 12th or better in his or her respective event to advance to the NCAA championships in Eugene, Oregon June 7-10. There are 48 competitors in each event. A full meet schedule can be found here.
| | | |
| --- | --- | --- |
| Athlete | Event | First Event Time (CT) |
| John Krzyszkowski | Men's javelin | 11 a.m. Thursday, May 25 |
| Jessica Parker | Women's 800 meters | 8:10 p.m. Thursday, May 25 |
| Brittney Feivor | Women's 10,000 meters | 9 p.m. Thursday, May 25 |
| Daniel Armstrong | Men's high jump | 6 p.m. Saturday, May 27 |
OTHER ITEMS OF INTEREST
Steve Wojciechowski was on The Sidelines with Evan Daniels' podcast last week. Wojo talked about getting recruited in high school, working with Team USA and, of course, Marquette basketball.
All three of this year's Marquette basketball's seniors – Luke Fischer, Katin Reinhardt and Jajuan Johnson – had pre-draft workouts with the Milwaukee Bucks.
Seton Hall forward Angel Delgado announced via Twitter that he is returning for his senior year. Delgado has averaged 12.6 points and rebounds per game against Marquette in eight career contests.
Leave a Comment