MUWBB: prep teammates reunite at MU
Top Wisconsin recruits bring chemistry from Milwaukee AAU experience
Michael Beiermeister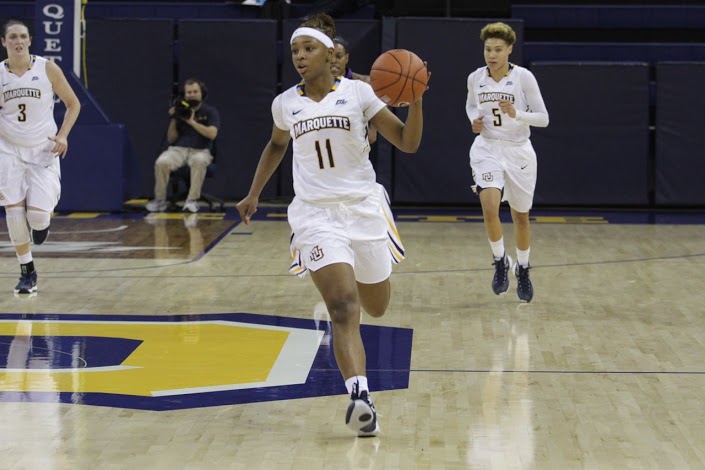 Andrew Goldstein, andrew.goldstein@mu.edu
November 12, 2015
Amani, Natisha and Allazia.
It has been pretty difficult over the past few years to hear or see one of these names and not find one of the other two in close proximity. Pull up Prospects Nation's 2015 Top 150 recruits list for women's basketball, and you'll find Amani Wilborn at No. 86, Allazia Blockton seven spots below at No. 93 and Natisha Hiedeman at No. 149. Search Hiedeman's highlight reel, and you'll see her send a laser of a pass into the paint directly into the hands of Wilborn for a textbook layup.
Yes, Marquette's freshman guards Wilborn, Hiedeman and Blockton have been inseparable both on and off the court. They spent free time together in high school, played AAU basketball together for Wisconsin Playground Elite, and now they'll spend the next four years together in Milwaukee.
"We kind of know each other's games, which makes things (easier) for everything on the court," Hiedeman said.
Even though the trio played together on their AAU team, the odds certainly did not favor all of them landing at Marquette. Jeff Smith, the women's basketball director for Wisconsin Playground Elite, said other schools heavily recruited all three players.
"Natisha had almost 10 offers, Amani had over 10 offers and Allazia had over 15 offers," Smith said. "They had plenty of other options."
Eventually all three players decided to accept Marquette's offer. Hiedeman announced her commitment Aug. 2, 2014, and both Amani and Allazia followed suit in November that same year.
Marquette women's basketball head coach Carolyn Kieger said that she recruited each of them on an individual basis and was thrilled when they all decided to become Golden Eagles.
"That's how we recruit here: we go after the student-athlete and the whole person," Kieger explained. "It worked out great for us … their chemistry is already there, and it was an easy transition."
If the group had a standout player, it may very well be Wilborn, a 5-foot-9 spark plug out of Riverside High School on the North Side of Milwaukee. She averaged 15.7 points and 6.4 rebounds per game over her high school career. Wilborn's smooth ball-handling and strong drives to the hoop have won the admiration of many, including Smith.
"I would call her a wizard with the basketball," Smith said. "She can score for herself, she can create for others, she can shoot the 3-pointer, the midrange, the floater. She can also get to the basket on anybody at any level."
Hiedeman, who will likely join Wilborn in the starting backcourt this year, is no pushover in the scoring department herself. The 5-foot-8 guard from Green Bay Southwest averaged 25.6 points per game for her high school team last year to go along with an eye-popping 4.5 steals per game. Along the way, many defenders made the mistake of giving Hiedeman space beyond the 3-point line — she shot 38 percent on 3-pointers during her senior year.
Given her on-court prowess, it's actually Hiedeman's demeanor that stands out most to her teammates. The guard is almost always laughing or joking with her teammates and coaches.
"She's our energy bug on and off the court," Blockton said. "She pumps us up and is always talking a lot."
And, of course, there's Blockton herself, who was also considered to be one of the best women's basketball players in the state coming out of Dominican High School in Whitefish Bay. Blessed with a nimble first step and natural athleticism, Blockton has emerged as one of the more intriguing young players in the BIG EAST. She holds Dominican career records in points, rebounds and blocks and was named an all-state performer for three consecutive years.
"She's probably one of the strongest players that I've played with or against," Wilborn said of Blockton. "She's strong going to the basket, but she also has a great midrange jump shot. It's hard to guard someone (that has both)."
All three players seem to be perfect fits for Kieger's up-tempo, rim-attacking offensive philosophy, in which fast breaks and incisive cuts to the hoop are usually the order of the day. Running the break can be one of the most difficult things for young guards to execute correctly, but Wilborn says that playing alongside familiar faces has made things significantly easier.
"That's pretty much what we did (in AAU ball)," she said. "Our offense was run-and-gun, and we were pressing a lot, so it's good that in college we can kind of play how we are already used to playing."
Having three players with such chemistry will be invaluable for a Marquette team whose inexperience may reign supreme this year. The Golden Eagles don't have any of their starters from last season, and eight out of the 11 players on the roster are freshmen. One of the three non-freshmen, junior guard Chelsey Gibson, tore her ACL in preseason workouts and will miss the entire season. That leaves junior guard McKayla Yentz and sophomore center Shantelle Valentine as the only players with any college basketball experience.
That's why the Wisconsin trio is so important to this year's team. Perhaps Blockton, Hiedeman and Wilborn are the beginning of a recruiting boom for the Golden Eagles, and maybe their recruitment signals something more substantial down the road for Kieger's program. While growing pains are to be expected with this year's young team, the trio may soon be the pieces to carry Marquette back to a postseason tournament.
"All of them have the ability to start and be all-conference players," Smith said. "I'd love to see them take Marquette back to the NCAA tournament."