Joey Hauser's coaches praise the mental side of his game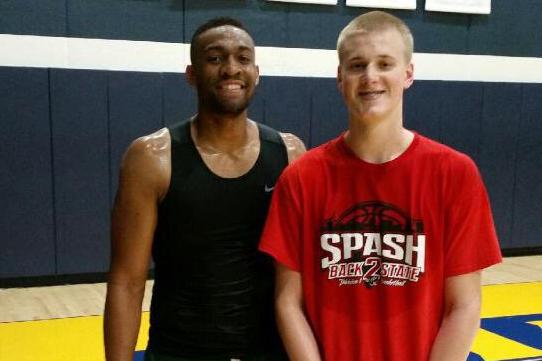 Many Marquette fans know Joey Hauser from his frequent recruiting activity or because of his brother Sam Hauser, one of two freshmen on this year's basketball roster. However, his coaches paint a clearer picture of Joey on and off the court.
"(Joey's) just a very complete player," Stevens Point Area Senior High School head basketball coach Scott Anderson said. "He does so many things well."
Hauser's AAU coach for the Iowa Barnstormers, K.C. Schmitt, echoed Anderson's praise for the 6-foot-7 prospect.
"Joey is a positionless basketball player who knows how to play the game and is extremely coachable," Schmitt said. "He's a hard worker who is competitive, unselfish and just a positive person."
"His energy and charisma are infectious to everyone," Schmitt added. "His intangibles are off the charts, so any program recruiting Joey is going to get a great player."
Both coaches indicated that Hauser is as talented as any player they have ever coached.
The resident of Stevens Point, Wisconsin, has sky-rocketed in the recruiting rankings over the course of the past year, ranking between 13th and 36th on major recruiting sites. Per Schmitt, Wisconsin, Marquette, Iowa, Duke, Michigan State, Virginia, Nebraska and Ohio State followed Hauser the most.
Anderson rejected the idea that the outstanding recruiting interest has affected Hauser.
"He is a very grounded kid, takes things in stride and takes it as it comes," Anderson said. "He never (emotionally) gets too high or too low, so he stays pretty even keel."
"I think he's handled his recruitment very well," Schmitt said.  "He appears to be asking the right questions, saying the right things and learning throughout the process."
Schmitt also holds Hauser's off-the-court character in high regards, mentioning his "knack of making people laugh and smile."
"He's a good kid with a good head on his shoulders," Schmitt said. "(He's) definitely a little goofy at times, but all kids are."
Much of his ascent in the recruiting rankings has been with two teammates on his side — co-2016 Mr. Basketball Wisconsin players of the year Sam Hauser and Trevor Anderson. In the two years that Joey played with Sam and Anderson, they won back-to-back WIAA Division I state titles, a first for SPASH. The team had more state titles than losses.
Sam and Anderson graduated last June and are continuing their basketball careers at Marquette and UW-Green Bay, respectively.
"They both had just unbelievable four-year careers," Anderson said. "For me, (the players were) my son and a kid that in a lot of ways felt like that at some times. Even though we'll miss those kids, we'll keep trucking on."
As SPASH opens the season without those two leaders, Joey is expected to take the reins as the team leader.
"(Joey) was never afraid of the big shot or making a play when it had to be made," Anderson said. "He's become a little more verbal this offseason, which is not a total comfort zone for him."
As Hauser makes this often-challenging transition, Anderson's expectations will not waver. He expects SPASH to win its fifth consecutive conference championship and be playing for its third consecutive gold ball in March.
Anderson acknowledged that those goals may seem lofty, but said he does not believe that it would be a problem as long as the team "can stay healthy and continue to get better together."
The hype for Hauser has primarily surrounded his success on the hardwood, yet he has also been putting together a stunning football season, already notching seven touchdowns this season as SPASH's starting tight end. To put that in perspective, the rest of the receiving core has combined to score eight touchdowns so far.
While many coaches would shy away from letting their star player participate in a sport as physically intensive and dangerous as football, Anderson actually appreciates Hauser's participation on the division-leading Panthers football squad.
"I'm a big believer in kids playing other sports and doing things that they enjoy," Anderson stated. "I'm 100 percent on board with him wanting to play football and that's what he should be doing right now."
Anderson has been impressed with Hauser's performance on the gridiron so far. "As a receiver with his size and with those nice hands, he's a heck of a target out on the football field."
Anderson admitted that it is slightly nerve-wracking seeing his star basketball player taking hits every Friday night, saying, "You cross your fingers a little bit and say a couple of prayers that he and some of our other guys that are playing sports in the fall get through healthy."