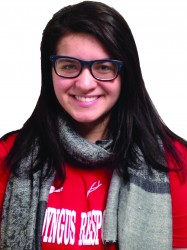 I am a simple woman. All I truly need is my pillow pet, a quality aged cheddar and a working Wi-Fi connection. Here on campus, two of those three are easy to come by: the pillow and the cheese. Wireless internet connectivity? Not always guaranteed.
Marquette's Wi-Fi is the ultimate wild card. It might work. It might not.
Now we have two networks: MU_Wireless and the newer MU_Student. This provides an added layer of excitement to the process of trying to get online. Maybe MU_Student is having issues, so you can just switch over to MU_Wireless. And once you get there, you can experience all the fun of your computer trying to figure out whether or not you need to log into the network again. (Hint: you probably do.)
But sometimes neither network works. Your computer might be able to find the networks but not connect to them, or it might not be able to find them at all.
This is a serious problem and before anyone starts whining about how college students are too dependent on the Internet, there are a few things to consider.
First of all, almost every class a student takes requires the Internet in some way. Professors assign online content as reading, some class assignments or information is only available through D2L and sending email is often the best and preferred method of communication with professors and other students.
Since most of us don't exclusively use the Internet through desktop computers at the library or carry an Ethernet cable everywhere we go in case of Wi-Fi apocalypse, we actually do need a functioning Wi-Fi connection in campus buildings.
Most professors have a "malfunctioning technology is no excuse for not doing an assignment" policy, which can make things a tad bit stressful. Like most other people living in university-owned housing or studying in a university building, I am at the mercy of Marquette Wi-Fi's whims. In fact, even as I have been writing this, the Wi-Fi has been playing a demented game of hide and seek, disappearing and reappearing. That is because the Wi-Fi is a shady politician trying to silence the press.
When the Wi-Fi stops working, I cannot submit assignments on D2L or work on a group paper via Google Docs. But even though I have no control over my own wireless internet connection, this is apparently no excuse for not completing an assignment or online quiz.
It's not even because of procrastination. If the only time I have to read an online article for class is eight hours before class, and the Wi-Fi decides functionality is optional, that article is not getting read. And I will not be skimming it in the 15 minutes before class because I don't have time for that. I didn't wait until the last minute. I planned ahead, and it didn't work. But I'm not going to rearrange my schedule and push things back and blow off others entirely for the sake of accessing an archived New York Times article.
I am fully aware that in the real world, I will have to figure out a way to make it work even if the Internet is not accessible. But this is college, not the real world, as evidenced by the fact that I can wear the same shirt three days in a row without consequence. And since this is not the real world, professors need to cut students a little slack if the Wi-Fi that they are paying upwards of $36,000 in tuition to have access to isn't working.
Ultimately, Marquette's Wi-Fi needs to get it together, because we do not have the patience or the grading scale flexibility to wait on it.