Some food for thought from 'cheese geek' Jeanne Carpenter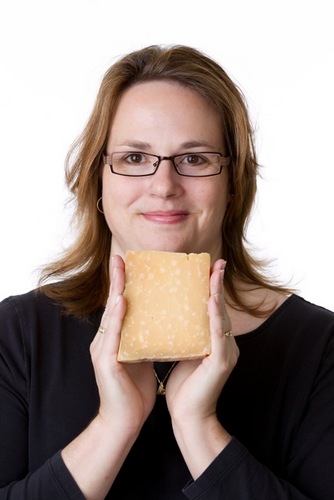 Few things are as synonymous with Wisconsin as cheese. Yet the average consumer probably cannot tell the difference between a Monterey Jack and a Muenster. Self-proclaimed "cheese geek" Jeanne Carpenter has spent the last 13 years trying to change this.
Ever since she tasted her first sheep's milk artisanal cheese in 2003, Carpenter has made it her personal mission to give more exposure to the work of Wisconsin artisanal cheesemakers.
She began her love affair with cheese as a spokesperson for the Wisconsin Department of Agriculture. There, she played a role in creating the Dairy Business Innovation Center, a nonprofit that aims to increase awareness and sales of Wisconsin's artisanal cheeses.
"Learning the stories of these hardworking dairy farmers and cheesemakers who were trying to make high quality, small-batch cheeses made me aspire to want to help them succeed," Carpenter said. "Since then, I've tried my best to help Wisconsin artisan cheesemakers get better media exposure and an increased retail presence."
While working at the Department of Agriculture, Carpenter started her blog, Cheese Underground. A little over a year later she left the Department of Agriculture to start her own public relations firm.
In 2009 Carpenter started Wisconsin Cheese Originals in order to educate and connect consumers with cheesemakers. Now, she has around 200 members paying a $35 annual fee for invitations to various cheese related events, from creamery tours to cheesemaking classes.
Carpenter also has the distinction of being one of only four Certified Cheese Professionals in the state of Wisconsin. According to Carpenter, only about half of those who take the American Cheese Professional Certified Cheese Professional test pass.
"As I reviewed the exam qualifications, I realized I really needed retail experience working behind a cheese counter," Carpenter said. "So I persuaded the nice folks at Metcalfe's Market in Madison to hire me part-time as a cheesemonger. I then studied about 10 hours a week every week for six months before taking the two-hour exam, and was required to learn the science and art of cheesemaking, as well as the federal food code, sanitation regulations and international requirements for hundreds of cheeses."
Carpenter said the first step in judging a cheese is simple: It needs to taste good.
"Tasting good means the cheese has no defects – it's not bitter nor carries unclean flavors, and it fits the category in which it's made," Carpenter said. "That means if it's an aged Cheddar, it fits the flavor and texture profile of an aged Cheddar, or if it's a Gouda, it fits the flavor and creamy texture of a Gouda."
Carpenter hopes to see cheese take its place alongside the recent meteoric rise of craft beer and other small batch distilled spirits.
"Artisan cheese is a perfect companion to both craft beers and wines, as it's a fermented food with a lot of complimentary flavors," she said. "Wisconsin is poised to be a leader in the industry, as we have the expertise and infrastructure to sustain a healthy artisan cheesemaking community for the future."
Carpenter is now the Specialty Cheese Buyer for Metcalfe's Markets and builds relationships with cheesemakers all across the country. Her philosophy is simple: Have fun. Do Good. Eat Cheese.
Leave a Comment