EDITORIAL: Turnitin feature upholds academic integrity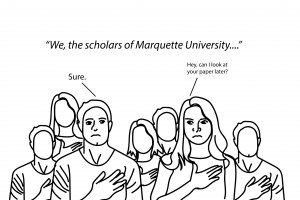 Prior to officially registering for spring classes, all returning students had to agree to the university's pledge of academic integrity. Of course, to many students it was just another box to check like the acknowledgement of financial responsibility when signing up for classes.
The pledge, which first-year students took during convocation, was one of the last remaining components of this year's academic integrity initiative. It followed the academic integrity tutorial which students also had to complete to register for classes.
It is justified to say this pledge is yet another unsuccessful and oft ignored, easily forgotten facet of the initiative. As we recently stated, the tutorial was no more than a burden for students and did not create a greater discussion about academic integrity around campus.
There is, however, one part of the initiative which the university has been mum about that may actually force students to address academic dishonesty head-on. The dropbox feature on the D2L site, utilized by most students and instructors, is now linked to the plagiarism-checking website, turnitin.com. Directly on the site, professors can compare different papers within the class or in the greater academic sphere. Previously, professors would have to set up a separate dropbox through the site in order to use these services. Now, one site houses all these features.
The new multi-utility dropbox is a very practical and useful tool to encourage academic integrity, though most students are not aware of its current usage. Some professors have told students they will check their work through turnitin.com, but others could be caught in a trap if they are not informed.
While students' lack of awareness regarding the retooled dropbox may be a sneaky way to catch students working out of line, it is in the best interest of professors and the university to make the feature well-known as a measure to prevent academic dishonesty. This feature is the most pragmatic and tangible piece of the year's initiative and has the potential to be the most proactive in deterring dishonest work.
Plagiarism and the improper sourcing of information are the biggest no-no's when it comes to academic papers and assignments. Some students do not abide, however, and take for granted the possibility that their instructors will not check their work for this. If all students knew the use of the D2L dropbox meant their work would be checked through turnitin.com, they may complete their work differently.
When working to prevent academic dishonesty, there need to be avenues to hold students and faculty accountable. The turnitin.com feature is perfect if both students and instructors are aware of its presence and use. Clearly, this would lead to a smaller number of incidents.
The university and instructors should take advantage of the tool on D2L, as it can have a great impact if used properly and universally. The dropbox can uphold the standard this year's initiative strives for and ensure academic integrity is not just the subject of the online tutorial but a major influence in the work we submit.
The initiative can continue through the practical dropbox, as it upholds the terms of academic integrity. Students just need to know about it so they understand that any academic misconduct will be noted and could be further pursued.
Academic dishonesty can be better prevented through this useful tool in a much more effective way than the honor pledge and academic tutorial. Students cannot just check a box or complete an easy assessment for academic integrity as it must be constantly represented in academics. The updated dropbox sets the expectation and most effectively maintains the standard for student work.
Leave a Comment