Steve Taylor Jr. transferring from Marquette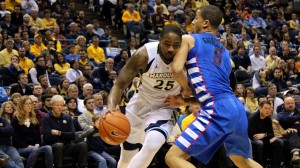 Junior Steve Taylor Jr. is transferring from the men's basketball program, the athletic department announced Wednesday afternoon. He was poised to be the only senior on the team next season.
Taylor Jr., started out as the team's center while sophomore Luke Fischer was ineligible to play because of transfer rules. During the eight game span, Taylor Jr., averaged 7.4 points per game and 5.4 rebounds, while averaging 29.4 minutes per game. But he finished the season averaging 5.9 points, 5.0 rebounds and 22.1 minutes per game. During his 90 career games, Taylor Jr., averaged 3.9 points and 3.3 rebounds.
Taylor Jr., also contemplated leaving the program after his sophomore season due to low minutes. But when former coach Buzz Williams left for Virginia Tech, the forward decided to stay an extra season.
With his departure, only redshirt freshman Duane Wilson, sophomore Jajuan Johnson and Fischer remain from Buzz William's tenure, with Fischer never appearing in a game for the former head coach. Derrick Wilson and Juan Anderson will graduate this season, while Deonte Burton and John Dawson transferred from the program after the first semester concluded.
Taylor Jr.'s departure also leaves Marquette with another scholarship available for incoming recruits in addition to having no seniors on the squad. With the gap, coach Steve Wojciechowski will likely target a junior college player or two and add to his nationally ranked recruiting class.
Leave a Comment