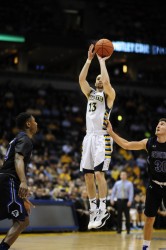 It was raining threes in the second half between Marquette and St. John's as the Red Storm hit eight 3-pointers in the final 20 minutes en route to a 67-51 victory at the BMO Harris Bradley Center Wednesday night.
Marquette bottled up D'Angelo Harrison for much of the first half, but the Big East's second-leading scorer eventually broke through. Harrison scored 16 points in the second half and drilled four of St. John's eight 3-pointers in the final frame to finish with 21 points on the night. Despite his gaudy performance, Harrison did not even lead his team in scoring. That honor went to Rysheed Jordan, who scored 23 points on six-of-11 shooting and a team high five 3-pointers.
"Our shooting allowed us to put some distance between ourselves and Marquette," said St. John's coach Steve Lavin. "The 12-of-24 from the 3-point line was clearly the difference. If you look statistically, rebounding was basically a wash, the assist-turnover (ratio) for both teams was pretty much equal, the free throw shooting by both teams was atrocious."
"But the 3-point shooting for us clearly allowed us to separate and salt the victory away late," Lavin said.
Marquette's 2-3 zone was exposed badly Wednesday night. It began late in the first half when the Red Storm staged a 14-6 run before heading into the locker room with a seven-point advantage at halftime. Carlino got the Golden Eagles within four with a triple to open the half, but it was the closest Marquette would get as Harrison began his prolific half with a 3-point make and two free throws after Marquette's bench drew a technical foul.
Despite the defensive struggles, Marquette coach Steve Wojciechowski said he did not consider switching into a man defense.
"With our personnel it's difficult," Wojciechowski said. "With Juan (Anderson) being injured we lose probably our second-best defender to Derrick (Wilson). If he was healthier, then he can look at Dom (Pointer), but that's a tough matchup for other guys."
Wojciechowski said he thought his team left a lot of points off the board by failing to finish opportunities near the rim.
"We had the ball around the basket I would say conservatively 15 times where we should've finished or got fouled and we didn't," Wojciechowski said. "And when we did get to the free throw line, we didn't finish."
"I thought we left 20 to 30 points on the table that are make-able, make-able shots," Wojciechowski said.
The Golden Eagles were led by Matt Carlino, who scored 17 points with five 3-pointers. Similar to Marquette's first contest with the Red Storm, the team had only two players score in double figures. The second player was Luke Fischer with 13 points. Steve Taylor Jr. could not get many shots to fall, but did pull out a career-high 17 rebounds, six of which came on the offensive glass.
"I thought today was by far the best job he's (Taylor Jr.) done in rebounding," Wojciechowski said. "Rebounding in traffic especially. That was encouraging when you look at the stat sheet."
Marquette struggled from everywhere on the floor including the free throw line. The team went seven-of-18 from the charity stripe to put the cherry on top of a subpar outing from the floor. St. John's shot only 39 percent for the game but was 12-of-24 (50 percent) from downtown, compared to just 11-for-35 (31 percent) from everywhere else on the floor.
The Golden Eagles suffered a big scare in the first half, as Duane Wilson left the game momentarily with a right shoulder injury that stemmed from a collision. After scoring 22 points with seven 3-pointers in Sunday's loss against Providence, Wilson scored only eight points on three-of-10 shooting and 0-for-6 from downtown Wednesday. Wojciechowski said he thought Wilson would be fine.
Marquette concludes the regular season at home against DePaul at 1 p.m. It will be the final game at the BMO Harris Bradley Center for seniors Carlino, Anderson and Wilson.