Mache twins fulfilling childhood dream with Marquette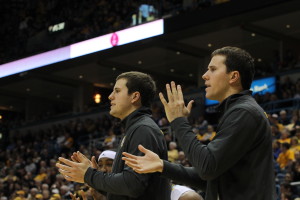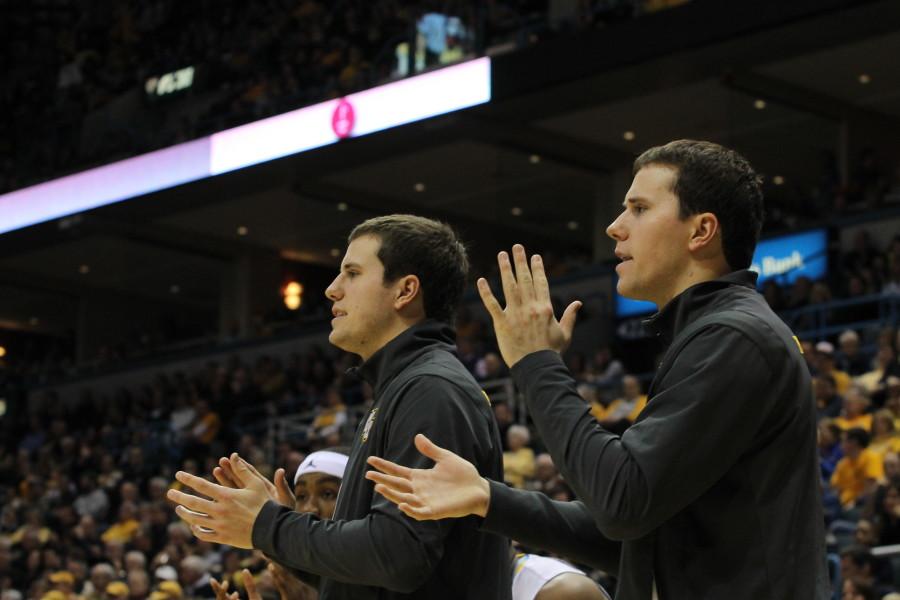 Nearly every kid growing up playing a sport has a dream to make it, wherever "it" may be. It could be to the professional levels, to play Division I or maybe just to be a varsity starter in high school.
For Matt and Mike Mache, the dream was always to play Division I basketball. After two and a half years at Marquette, the twins are finally living their dream.
"It's a very exciting experience," Mike said. "When we were younger, we wanted to play Division I basketball, so to be a part of a Division I basketball program as a walk-on was definitely a unique experience."
Mike and Matt started playing basketball in fourth grade in their hometown of Glen Ellyn, Ill., a western suburb of Chicago. The two took to the sport instantly, falling in love with it. They played together throughout grade school and continued to play in high school at Glenbard West High School.
The Mache twins played varsity all four years for the Hilltoppers and were starters in their final three. Mike became the team's captain his senior year and graduated as the school's all-time leading scorer with 1,357 career points. Mike was also named all-conference and all-area in his junior and senior campaigns. Matt led his team in 3-pointers made his junior and senior year and was named to the all-area team his junior year.
While playing high school basketball, the two also played AAU ball for the Mac Irvin Fire. With the Fire, the Mache twins played with fellow Golden Eagle Steve Taylor, Jr.
"It was definitely a unique experience playing with him," Mike said. "Steve is a great guy and we've known him for a while."
Even with prolific high school careers, the two decided not to pursue collegiate athletics.
"After ending our high school career, after being four-year varsity basketball players and three-year starters, it was definitely a hard decision," Mike said. "But I think being away from it brings you back and makes you realize how much you really do love competing."
But choosing whether or not to play collegiate basketball wasn't the only difficult decision the two brothers had to make. Both looked at Marquette separately, as well as other schools, but ultimately decided to go to college together.
"Once it really came down to it, I really love Marquette," Mike said. "Our dad is an alumni, he went here during Coach (Al) McGuire's tenure and was here for the national championship, so we've always been around Marquette and have known a lot about it. … It really had the full picture; we both knew that it was the right place for the both of us. We both looked at it separately, but realized this is where we wanted to go and so we ran with it."
"Honestly, we grew up knowing about it, and it really combined (with) that we really wanted to go far away, but it was still drivable to go back home," Matt added. "It's a different, unique culture here. It's a Jesuit institution, so that really helped us make our decision."
Matt and Mike are both in the College of Business Administration, double majoring in operations and supply chain management and finance. But the two really want to become collegiate basketball officials.
While officiating at a live recruiting event, Mike met former women's basketball coach Terri Mitchell. After having numerous conversations with her, the two became student managers for the women's team.
The Mache twins managed the women's team for two seasons, working with Mitchell and current coach Carolyn Kieger. After their stint with the women's program, the duo moved over to the men's program with Coach Steve Wojciechowski.
"The last two and a half years were a great experience," Mike said. "We got to see a lot of operations and things behind the game of basketball…We saw a lot about the game and our love for the game continued to grow."
Matt and Mike enjoyed the time as student managers, but when Deonte Burton and John Dawson transferred, the twins saw the opportunity to finally fulfill a childhood dream of playing collegiate basketball.
Being student managers, Matt and Mike were able to participate in "noon ball" where coaches and former players could come back and play in pick-up games. Matt said as the two continued to play in the noon ball games, the competitive drive started to kick back into gear.
"It was kind of mutual," Matt said about walking on. "We approached the proper channels on the men's side and met with coach (Wojciechowski) and just ran with it. It's been great ever since."
The two now sit on the end of the bench, each sporting a Marquette jersey; Mike wearing number 42 and Matt wearing number 54.
Playing together for so long could create some sibling rivalry between the two brothers. But Matt and Mike said that it's almost the opposite, that they want the other to succeed.
"We're probably each other's biggest fans," Matt said. "If I see something he can do better in practice, I'll be like, 'Hey, do that.' So we really kind of build on each other. We take each other's ideas and build on it and create a better effort in practice."
There are 541,054 high school basketball players in the United States. Of those, only 32,190, or 5.9 percent, go on to play any sort of collegiate basketball. Only 5,485 players of the 541,054 make it to Division I basketball. Matt and Mike, two and a half years removed from playing high school ball, are playing with some of the best players in the world.
And while they may not be getting much playing time, if any at all, the two are perfectly fine with that.
"At the end of the day, before we've made every decision, it's felt right," Matt said. "It felt right to go to Marquette. It felt right to join the women's basketball program. And at the end of the day, it felt right to leave something that we've loved for two-and-a-half years. Every decision has felt right."
"And we felt it was right…to be a part of the Marquette men's basketball team," Mike added.
Leave a Comment