Starting lineup and depth chart preview for 2015-16 season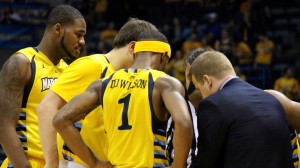 Coach Steve Wojciechowski's roster for his second season at Marquette will feature an interesting mixture of old faces and incoming freshmen. The Golden Eagles have four returning players and six newcomers, with three open scholarships available.
The centerpieces of the 2015-16 roster will likely be guard Duane Wilson, who will be entering his redshirt sophomore season and center Luke Fischer, who will be a junior next season. Role players JaJuan Johnson and Sandy Cohen return for their junior and sophomore seasons, respectively. Wally Ellenson will join the team as a junior after redshirting last season following his transfer from Minnesota.
Marquette's incoming recruiting class is generating plenty of excitement. The group is led by consensus top-10 prospect, Henry Ellenson, a 6-foot-10 forward from Rice Lake. Each of the incoming recruits could see plenty of playing time in their freshmen seasons.
These interchanging parts make assembling a depth chart a bit of a challenge. There are a couple of questions needing answers before a starting lineup and depth chart can truly be formulated. These questions will be answered throughout the roster analysis.
Here's the starting lineup that makes the most sense given the current roster: incoming freshman Traci Carter playing the point, Wilson at shooting guard, Johnson at small forward, Henry Ellenson at power forward and Fischer at center.
The last two spots in the lineup are the easiest to project. Ellenson is a rare talent who has an unprecedented scoring ability for a player his size. Ellenson plays more like a stretch-four in that he is a dangerous shooter and is athletic enough to run the floor in transition.
Fischer is a lock for a starting job after averaging 11 points, 4.8 rebounds and 2.2 blocks in his first season. He hit a wall midway through Big East play, but broke through to finish the year admirably against rugged competition.
One problem the Golden Eagles could face is their lack of size off the bench. Incoming freshman Matt Heldt will be the only other player taller than 6-foot-10 coming off the bench after would-be senior Steve Taylor, Jr. decided to transfer. Heldt is a very good player who could be a useful backup center, but Marquette could use an extra forward or two to help spell the starters.
The point guard position might be the biggest uncertainty. Carter is the only player with the skill set of a true point guard, but it may be unreasonable to thrust a freshman into the role of running a college offense.
Another theory is that Wilson plays the point. However, this does not align with what he does best. Wilson is a potent scorer and scored in double figures 17 times in his rookie campaign. Facilitating is not one of Wilson's biggest strengths and his 59 turnovers were the third most on the team. Wilson's 1.15 assist-to-turnover ratio isn't terrible, but it also isn't incredibly efficient. Wilson is more suited to be a scorer rather than the orchestrator of the offense.
The question is whether Wojciechowski can bring in a veteran point guard to supplement the lineup for a season or two. Help could come in the form of a one-year graduate student rental such as Matt Carlino, a junior college arrival or a transfer student.
The Golden Eagles are best served to find that experienced answer at the point while allowing Carter to develop and transition to the college game.
Wilson is a sure bet to play off the ball in this scenario, but the small forward position is another uncertainty. Johnson, Cohen and Wally Ellenson each could play a role at the small forward spot.
Johnson has the most experience, but is the smallest of the trio. He thrives off the dribble, but could have a hard time driving the lane and scoring in traffic against taller players. He would have to develop a more consistent shot to keep defenders honest along the perimeter.
Cohen exhibited a terrific shot at times during his freshman season, but needs to add some strength during the offseason. Cohen was also a defensive liability for most of the year, although he did show improvement later in the season.
Ellenson can use his athleticism to compensate against bigger opponents. His biggest concern is experience. He logged only 110 total minutes in two seasons at Minnesota.
The answer to this position may not be on the roster. With three scholarships to play with, Wojciechowski may add a player with more experience.
Incoming recruits Sacar Anim and Haanif Cheatham could also play significant minutes. Both are swingmen who can play both the two and three spots. Cheatham is a tremendous playmaker who has the length to defend taller players. Anim is an athletic slasher and plays energized defense.
The good news is Wojciechowski should have more to work with in his second season than his first, but how he meshes the pieces together will be interesting to watch. Marquette possesses a lot of versatility, but even more inexperience. Players such as Wilson and Fischer will be relied upon as steady contributors while the others fortify their roles.
Of course, much of this can change with an addition or two to the rotation.
Leave a Comment