Marquette travels to Creighton for Big East battle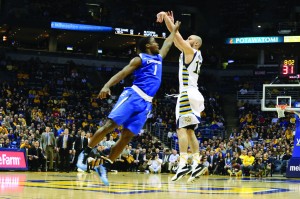 The Marquette men's basketball team hits the road Saturday to take on the Creighton Bluejays. Marquette (11-13, 3-9) is ninth in the Big East, while Creighton (11-14, 2-10) is last.
The two teams have already played each other in Big East play, when graduate student Matt Carlino drilled a 3-pointer as time expired for a 53-52 Marquette victory Jan. 14. However, Carlino missed the previous two games due to concussion-like symptoms, and his status for Saturday's game is still unknown.
It would be extremely beneficial for Marquette should Carlino play. Carlino dropped 19 points on the Bluejays in the team's previous meeting, including shooting 60 percent from the field and from behind the arc. The team's next leading scorer was redshirt freshman Duane Wilson, who scored 17 points. On the season, Wilson has been Marquette's second best scorer, averaging 11.7 points per game. Sophomore Luke Fischer is the only other Marquette player who has a double-digit average in points, with 10.2 points per game.
Creighton heads into the contest with a week-long rest following an 18-point loss at St. John's. Austin Chatman is the only Bluejay scoring in double figures and is averaging 10 points per game. In the teams' first meeting this season, senior Rick Kreklow led the Bluejays with 13 points, while Chapman was held to just two.
The last matchup was a back and forth game, and this edition in Omaha, Neb., should be no different. Marquette averages 66 points per game, while Creighton averages 66.8 points per game. Marquette shoots 42.1 percent from the field on the road, while Creighton shoots 41.8 percent from the floor while at home. The Golden Eagles have a 49.7 effective shooting percentage, while the Bluejays have a 48 effective shooting percentage.
On defense, the two are just as even. Marquette allows 65.7 points per game, while Creighton allows 67.1 points per game. Marquette opponents shoot 43.5 percent from the field when Marquette is away from the Bradley Center, while Creighton allows opponents to shoot 42.8 percent in Omaha. Golden Eagle opponents have a 50.1 effective shooting percentage when they are on the road, while Bluejay opponents have a 50.4 effective shooting percentage when Creighton is home.
Free throws have been an inconsistent aspect of Marquette's game, and it could play a large part in getting a victory. The Golden Eagles shoot just 67.1 percent from the charity stripe, which is 249th in the nation. In the home win against Creighton, Marquette shot 66.7 percent from behind the line.
In the following game against Xavier, Marquette increased its free throw percentage to 85 percent, its highest of Big East play. But in the last two games, Marquette has gone cold, shooting 54.5 percent against Seton Hall and an abysmal 41.7 percent against Xavier. Creighton averages 17.6 fouls a game and a flat 17 at home, so making the most of its free throws will be imperative for Marquette.
With the two teams playing evenly on offense and defense, the deciding factor will be which team will be the most efficient scorers, making the most of each possession. Marquette will certainly feel the absence of its best shooter, but if Carlino returns, then the Golden Eagles may have the edge to beat Creighton in its home arena. But the Bluejays nearly defeated Marquette once already this season, and home court advantage may be enough to get it done this time.
Tip-off is at 12 p.m. at the CenturyLink Center in Omaha, Neb.
Leave a Comment