Any time, any place, any Kopp's
If you love burgers the size of your face or a wide assortment of frozen custard flavors, then Kopp's Frozen Custard is your must-visit dining destination. With three venues located in nearby Greenfield, Greendale and Brookfield, Kopp's extremely low prices, welcoming environment and successfully-defined niche makes it a place where any cold-hearted person can begin to feel warm.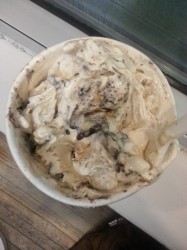 When it comes to classic diner food, Kopp's gives you a bang for your buck, and for college students like myself, this is great news. The burgers were phenomenal, especially at under four dollars. Fried onions, pickles, tomatoes and other options are available to place on your burger, but the patties are so delicious that not much needs to be added. The cheerful employees and their white-clad uniforms—complete with hats—made the diner-style atmosphere all the more pleasant.
Another delicious aspect of Kopp's is the wild flavors they offer on a daily basis, which range from "Ooey Gooey Cake" to "Banana Walnut Chocolate Chunk." I tried the frozen turtle custard. Instead of getting two scoops for $3.50, I decided to order a pint for only $4. I almost cried from pure joy as I ate the vanilla custard topped with large pecans, chocolate drizzle and salted caramel. The sweet and salty mixture of the ingredients within the custard not only satisfied my sweet tooth, but was extremely fulfilling and did not have me immediately yearning for a glass of water. Having also been to Milwaukee's well-known Leon's Custard and Gilles, I can say with confidence that I know good frozen custard when tasting it, and the turtle custard hit the spot.
The Kopp's location I visited was in Brookfield, which was not too far from campus. Each Kopp's venue has its own distinct layout, and this particular spot had a large seating area with large windows surrounding customers. The sizes of Kopp's give it a stark advantage over other custard places around the Milwaukee area.
However, the seating area was somewhat inconvenient. There were mainly benches everywhere with no real tables around. This was a bit of an annoyance because having any frozen treat means it can melt, and the dish can become sticky, which is never fun. The seating area was also a bit dirty, which can be a turn-off when trying to consume any type of food. Despite these few issues with the seating area in Kopp's, the food was spectacular.
To anyone who frequents Baskin Robbins, Dairy Queen or any other similar place besides Kopp's, you are doing yourself a disservice. The creaminess and freshness of Kopp's frozen custard allows people to consume this treat easily. Frozen yogurt tends to melt extremely fast, while ice cream, mainly comprised of milk, turns into a liquid substance in a blink of an eye. With custard, your treat lasts longer because it is denser and handled differently than ice cream, as it is mixed for long periods of time before frozen.
If beer is a main staple of Milwaukee, custard is in a close second. The city has the highest concentration of frozen custard spots per capita in the entire world. Of the main five custard spots in Milwaukee, Kopp's counts for three, which makes a statement in itself. To understand what makes Kopp's distinct from other well-known custard shops in Milwaukee, take a visit to one of their locations around the Greater Milwaukee area. For anyone who decides to explore Milwaukee for this frozen treat, just remember; If it ain't Kopp's, it ain't custard.
Review 4.4/5
To find more information on Kopp's visit https://www.kopps.com/ and for more information about other restaurants in Milwaukee visit https://mkefoodfinds.com or follow me on Twitter at @JamesPriceless
Leave a Comment