Brunching on Budget
If one mealtime trend has gained steam over the past few years, it is most definitely the heavily photographed, romanticized and aestheticized brunch. But brunching on a budget isn't necessarily an easy thing to do — a fact noticed by the also highly trending source Spoon University. In Spoon Marquette's article "5 Milwaukee Brunch Spots Under $10," writer Diana Mandujano, a sophomore in the College of Communication, took to our own Milwaukee streets in search of brunches that wouldn't break the bank.
Here are some Wire staff reviews of a few places you can grab brunch in Milwaukee:
1) The National // Location: 839 W. National Ave., Milwaukee, WI 53204 // Critic: Maya Korenich
Atmosphere/Service: 4/5
The National is a quaint and sweet cafe. Restaurant-goers order up at a counter and then they bring out your food, which is unique compared to other brunch spots. However, it took a pretty long time to get served.
Ease of Access: 1/5
I think that The National is nestled inside a pretty run-down area. It was only 2 miles away, so I chose to walk, which was a not a very good idea. A diner should Uber or take the bus here.*
*staff note = The National is accessible by bus route 23, which leaves from several spots along Wisconsin Avenue
Prices: 3/5
The food was really good, but I paid $10 for a sandwich, which feels like a bit much.
Taste: 5/5
That being said, my caprese sandwich tasted amazing. Plus, it came with chips and a house-made hummus that were delicious. I would definitely get it again if it wasn't so far of a trip (by foot).
Overall Ranking: 4/5
2) LuLu Cafe // Location: 2265 S. Howell Ave., Milwaukee, WI 53207 // Critic: Aly Prouty
Atmosphere/Service: 5/5
LuLu Cafe has a relaxed, yet enticing atmosphere. There are outdoor and indoor seating options, with fun paintings on the wall, and the cafe does not feel claustrophobic whatsoever. My waiter was attentive and overall service was wonderful.
Ease of Access: 3/5
I opted to take an Uber to Lulu's, and while it was a quick drive to an adorable street, I wish the bus route had been more direct so I could have saved a few bucks.*
*staff note = Lulu Cafe is accessible by a few bus routes, but most involve making transfers.
Prices: 4/5
Everything on the brunch menu was just under $10. Adding things to a standard meal typically increases the price tag to exceed that by a little bit, but none of it was unreasonable.
Taste: 5/5
I opted for the sweeter side of brunch and ordered the bourbon and almond french toast. The french toast was fluffy, the maple syrup was authentic, the almonds gave it an extra crunch and the meal's flavor was, overall, perfectly balanced.
Overall Ranking: 4.5/5
3) Zak's Cafe // Location: 231 S. 2nd St., Milwaukee, WI 53204 // Critic: Noelle Douglass
Atmosphere/Service: 4/5
Zak's is adorned with colorful local art pieces, dark-stained dining tables and a casual waitstaff for all the trendy, laid-back brunch feels. The only knocks atmosphere-wise were the really quiet attitude of the customers, telling us it was just as much a formal meeting spot as a place to kick back with friends.
Ease of Access: 5/5
Students can hop right on the 23 at most any point along Wisconsin Avenue and get off right across the street from Zak's at 2nd Street and Pittsburgh Avenue. It's one of the most direct trips you can take to a brunch place, so Zak's gets a lot of brownie points for accessibility.
Prices: 4/5
The average brunch dish at Zak's averages at about $9, putting a broke college kid right at, if not above, the "under $10" mark strived for after the tax and tip are factored in. Though house specials themselves might be a little steep, there are several upgrades and a nicely-priced a la carte portion of the menu that allow an eater to put together a breakfast that suits both their tastes and wallets.
Taste: 4/5
Speaking for the cafe-classic chocolate chip pancakes I had the pleasure of trying, Zak's holds up fairly well when it comes to taste. While the pancakes weren't as fluffy as hoped, the chocolate was a perfect bitter-sweet balance, and the house sausage was delicious. All tastes worked together well, but weren't incredibly memorable.
Overall Ranking: 4.5/5
4) Mad Rooster Cafe // Location: 4401 W. Greenfield Ave., Milwaukee, WI 53214 // Critic: Nathan Desutter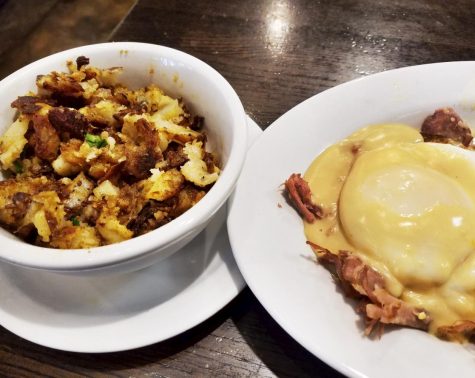 Atmosphere/Service: 2/5
The restaurant was clearly going for a barn house theme, and they nailed the look. Simple, quaint and a warm, homey feel. They did sit me in an awkward one-person booth behind the server station. Not a huge deal, but I kind of felt in the way with all the traffic.
The service was also fine, until my meal came with only two-thirds of the trio I was promised on the menu (eggs Benedict, potatoes and fruit). Nobody seemed to notice or care that my fruit was missing.
Even further, while the final bill was $10.61, my server gave me back just $9, meaning I didn't get my 39 cents back. I checked under the bill, under the stack of nine singles, and I even double-checked after I walked away. No 39 cents, which is a pretty significant mistake to make.
Ease of Access: 3/5
I drove there, and it was pretty easy to find. While there was plenty of parking, it is important to note that for students without cars, it might be quite a haul.*
*staff note = bus routes to Mad Rooster are not direct
Prices: 2/5
Greek yogurt with fruit and a choice of muffin costs $10.50. I think that says it all.
Taste: 2/5
I knew I wanted to order something relatively traditional that everyone has a specific taste for, yet also something that I could make with relative ease, so I chose the house's eggs Benedict. A simple, buttered English muffin topped with Canadian bacon, a poached egg with a runny yolk and creamy hollandaise sauce.
My dish ended up consisting of an English muffin topped with a pile of shredded, smoked ham, two borderline unseasoned eggs and bland, boring hollandaise. This was coupled with a side of mushy, under-salted potatoes that were oddly filled with chives and a hint of cheese. It wasn't awful. It was average, and for $11, average sours the taste buds. The only thing I could really taste was the overwhelmingly potent smokiness of my ham hash while longing for any hint of cayenne or lemon from my hollandaise.
Overall Ranking: 2/5
5) Cielito Lindo // Location: 739 S. 2nd St., Milwaukee, WI 53204 // Critic: Mackane Vogel
Atmosphere/Service: 5/5
The restaurant was decorated beautifully with authentic Mexican decor. My server was extremely nice and I waited less than ten minutes for my food.
Ease of Access: 2/5
Although the restaurant is less than two miles from campus, the walk requires passing through an area full of boarded homes. I'd recommend getting a ride*.
*staff note = Cielito Lindo is directly accessible by bus route 23, which leaves from several spots along Wisconsin Avenue.
Prices: 4/5
Most items were right around that $10 sweet spot, give or take $2 or $3. My taco platter costed $9, and included three tacos, rice and beans. It's very possible to spend only $10 on a good meal here.
Taste: 4/5
My tacos were delicious and satisfying. I wasn't blown away, but for the price it was what I would've wanted.
Overall Ranking: 4.2/5
SaveSave
View Comments (1)