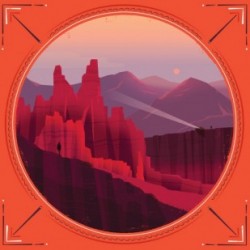 Chris Porterfeld has one important goal to fulfill on his tour this year: to share his band's music in a way that others can experience it banded together. As the Milwaukee native returns home this Wednesday to play The Pabst with Field Report, he looks forward to sharing his new album with a hometown audience on Wednesday night.
Porterfield described "Marigolden," Field Report's sophomore album, as an exquisite collection of stories in song. 
"My favorite part about working in song as my chosen form for writing, unlike journalism or something, is that you don't always have to tell the truth," Porterfield said. "The goal is sharing some sort of a greater truth through story and storytelling."
The band relays tale after tale in sweet, melodic choruses, making the album seem like the soundtrack to a melodramatic indie movie. Porterfield said he believes "Marigolden" to be very expressive of the time and place in which the band wrote and produced the tracks.
"This one is I think is a really good driver," he noted. "It was written on the road, and I really think the themes reflect that environment. It's good for driving in the car or walking around with headphones or something like that. "
The album also speaks of imbalance and journey, expressing Porterfield's feelings about the adventures that shaped his songs.
"There's a lot of ideas of just placement and sort of being out of balance and out of sync with what you understand the traditional reality to be and trying to reconcile that and trying to regain balance," he said.
Now, Porterfield is coming home to plant the Milwaukee flag he has been waving proudly throughout his tour across the nation. He hopes that Field Report has an impact on the cities the band has visited in the last three weeks by bringing (what Porterfield believes to be) much-deserved attention "Home" to Milwaukee. The band aims to play a phenomenal show on its home base, The Pabst Theater.
. "I've seen countless shows (at The Pabst) and I've been in that room so many times," Porterfield said. "It's going to be wonderful to present this record to a hometown crowd in that room."
He is excited that by the time Field Report plays The Pabst tomorrow night, most fans will have had ample time to work their way through the album, familiarize themselves with the songs and begin to form relationships with the music, making the live experience more elevated, impactful and unifying for all audience members.
"It's all about the shared connection," Porterfield said, "just bringing people together … (so they can) apply their own meaning and experiences to them. The ultimate goal is to make something that someone else can live in and discover something about themselves while they are experiencing our work."
Tickets for Field Report's show are still available and can be purchased online at pabsttheater.org.