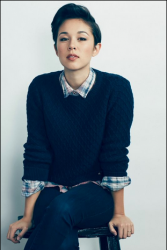 Singer-songwriter Kina Grannis is finally paying Milwaukee a visit tonight and plans to bring a refreshing, personable show to Turner Hall Ballroom this evening.
As the second stop on her North American tour in light of her newest album, "Elements," the California-native began her musical career after winning a 2008 Super Bowl contest, airing her music video for "Message from Your Heart" during the 2008 Super Bowl commercials. From then on, the young pop artist's career has been steadily growing, appearing in multiple magazines, interviews and performances.
Now Grannis continues to share her light, easy-going music and talent with the world in her 2014 tour. She talked with the Wire about her new album, tour and passion for music.
Marquette Wire:  In May, you released your new album, "Elements." What would you say is the main difference between this new album and the past albums you have made?
Kina Grannis:  In this album, I really tried to dig deeper and write as honestly as possible. I wrote about the things in the past that I might have shied away from because they felt too personal or too difficult to think about. I've done a lot of living and growing since my last album, and I'm sure all those experiences, the highs and lows, endings and beginnings, all played into the album as well.
MW:  What is your favorite song to perform off of your new album? What's your all-time favorite song to perform?
KG:  One of my favorites to play lately has been "Throw It Away." We all just kind of let it all go at one point, it's really fun and freeing. As for an all-time favorite… not sure I have one! It can tend to vary from day to day depending on how I'm feeling.
MW:  Much of your song content seems to follow a story or tell a story. How much of your music relates to real life experiences of yours? Where do you get inspiration for the songs that aren't about your personal experiences?        
KG:  About 90% of my songs are directly telling my life experience. Every once in a while I'll write a song about a dream I've had or about a friend's experience that I've observed.
MW:  What is your goal as an artist? What do you hope to give to your fans?
KG:  I want to give people hope, I want to make them feel, and I want them to be inspired to do what they love.
MW:  What do you plan to bring to your Oct. 16 show in Milwaukee that will be unique?
KG:  One thing I'm very excited about is that I'll be bringing three people up on stage every night to sing with me, something I've never done before. I'll also be taking Q&A on stage so people can get to know a little more about me and my songs.
MW:  Have you performed in Milwaukee before?
KG:  No, this is my first time ever in Milwaukee! I usually take a run through new cities before show time to get a feel of the landscape and people. Very much looking forward to explore Milwaukee!
MW:  Do you have any pre-show traditions that you and your band carry out before every performance you do?
KG:  They've evolved over time… lately it's usually free-style rapping (which we are all horrible at), just something to lighten the mood and get us laughing.
MW:  You're doing a lot of traveling for your tour, so obviously you need traveling tunes. What has been the soundtrack to your trip so far?
KG:  Lately I've been loving "In The Silence" by Asgeir, "Sparks" by Imogen Heap and "Little Machines" by Lights.
MW:  What is currently your favorite song or favorite band?
KG:  All time favorites are Sigur Ros, Imogen Heap and Bon Iver.
At the Wire, we've also put together a quick list of some of Grannis' must-hear songs before hitting up her show tonight at 8 p.m. at Turner Hall.