Alice Longyu Gao(xe/xyr), experimental DJ, producer, vocalist and instrumentalist is on xyr way of finishing xyr semi-global tour, The CEO Tour. Alice made it to the Cactus Club in Milwaukee on Sept. 25, putting on a show like no other. 
Alice's show was unlike any other show I'd been to. It was as if each and every person in the audience was at their own personalized concert. You could see it on everyone's faces in the way Alice interacted with the crowd and made it a personal experience.
There was a point where Alice got off stage and performed multiple songs in the center of the crowd, getting everyone to sing and dance with xyr. There was even a special moment where xe brought me up on stage for xyr song "I <3 Harajuku," something I'll never forget.
Alice's fashion sense is truly one of a kind, a visual array of beauty that truly reflect xyr artistic style and sound.
"I think fashion ultimately is a way of expressing yourself, so you should be wearing the clothes, not the clothes wearing you," Alice Longyu Gao said.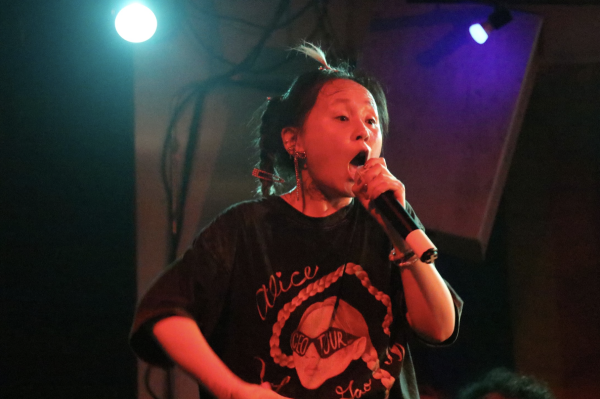 Amidst Alice's tour stop in Montreal, Canada, xyr entire tour van was stolen, all the instruments, clothing, makeup, merch and more. Despite the hardships, xe put on an animated and unforgettable show for everyone. Click here to donate to Alice's tour emergency recovery fund.
Alice's unique fashion sense truly makes xyr stand out as an artist, xe uses bright colors and accessories that have inspired me in my own personal style. During the show, xe was wearing the most beautiful ballet inspired pointe shoes complete with ruffled socks. Xyr unique fashion sense really reflects toward the way listening to Alice's music makes you feel, inspiring people to be whoever they want to be and dress in ways that showcase your true self.
There is something so beautifully unique about Alice's style, mixing different sounds with powerful lyricism that blend into a unique art-pop fusion. Alice is a vocal powerhouse, with many songs having fast paced vocals that transition into screaming behind electronic beats, it mixes perfectly. Xyr lyricism is memorable, calling on imperative topics that relate to xyr ever so present involvement as activist in this world.
"I started DJ'ing because I realized growing up, I've always been surrounded by music and when I was in New York I needed a way to make a living. It was some sort of money I could make, and I always wanted to have my original songs since I was young so eventually, I started making my own music. It's been a lot of fun, so here we are," Longyu Gao said.
Alice has been involved in the fashion scene ever since the early years of xyr career, having started as a DJ, xe performed at many different runway shows for various brands and designers. One thing that I think really sets Alice apart as an artist are xyr different art installations and xyr past editorial work in VMagazine and Paper magazine, directing and producing music videos and elaborate photo shoots. 
"I think New York was just the place for all the young people to improve themselves, develop their careers and explore their potential. Also, I just feel like you don't even need to go to New York, or Los Angeles, or any of those major cities because these days you have a phone, you have a computer and you can make your dream come true," Longyu Gao said.
During the show, Alice paused for a minute to talk about the intensive process that lies behind making xyr music. Xe talked about sitting in xyr bedroom, waiting to break through creatively. Something unique about xyr artistic process was when xe talked about going outside and touching grass, an often-overlooked act, reminding others that that the simplest things can help us unlock something even greater within ourselves.
After the show, Alice took the time to speak with each individual audience member, taking pictures with them and signing setlists. You can really tell just how much time and effort goes into an Alice Longyu Gao show, and how much xe and xyr team care about their supporters and fans. This level of unique and personal interaction is something you won't find elsewhere.
This story was written by Sofía Cortés. She can be reached at [email protected].
Story continues below advertisement