Welcome the season with favorite fall recipes
A few cheap, easy autumn alternatives to pumpkin spice everything.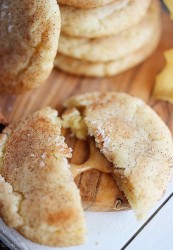 Tweet us pictures of your culinary creations at @muwire_arts.
Caramel Snickerdoodles
Ingredients:
1 1/2 sticks unsalted butter (softened)
1/4 cup vegetable shortening
1 1/2 cups granulated sugar
2 large eggs
2 1/4 cups all-purpose flour
2 teaspoons cream of tartar
1 teaspoon baking soda
1/2 teaspoon salt
1 bag of caramel candies (12 ounces)
For rolling dough:
3 tablespoons granulated sugar
1 tablespoon ground cinnamon
Directions:
Mix sticks of softened unsalted butter with vegetable shortening in large bowl.
Add in granulated sugar and 2 large eggs and continue mixing.
In a separate (medium) bowl, mix all-purpose flour, cream of tartar, baking soda and salt.
Slowly pour dry mixture into the large bowl and mix until all ingredients are fully mixed.
Cut caramel candies in pieces, about 1 1/2 cups.
Knead caramel candies into dough.
With a tablespoon, create dough balls.
Mix granulated sugar and ground cinnamon in same bowl for rolling dough balls.
Roll dough balls in sugar and cinnamon and place on baking sheet.
Bake cookies in oven at 350 degrees for 8-10 minutes.
Ingredients:
Bag of Trader Joe's Butternut Squash Ravioli
4 tablespoons of butter
10 sage leaves
1/4 cup of Parmesan cheese
Directions for ravioli:
Follow instructions on package, making sure not to overcook. Set aside once cooked.
Directions for sauce:
1) Dice 10 sage leaves.
2) Melt butter on large saucepan. Once butter is melted, pour in sage leaves.
3) Lower heat and let the sage cook. Once sage has turned dark green, pour ravioli in.
4) Make sure to mix the ravioli in with all the sauce.
5) Mix Parmesan cheese with the ravioli and serve.