Simma's Bakery Serving up Sweets and Smiles
Who doesn't love a quality slice of cheesecake, a huge chocolate chip cookie, or maybe even an entire cake? If you ask me and probably a good portion of Milwaukeeans what the best place is to get all these sweet treats and more, you're sure to hear the name Simma's thrown around.
A twenty minute ride on the 10 bus will take you to Simma's bakery in Wauwatosa which opened its doors for the first time in 1982. The moment you step into the bakery your eyes are drawn to the elegantly decorated cakes on the left and an entire wall covered in plaques, old newspaper articles and awards.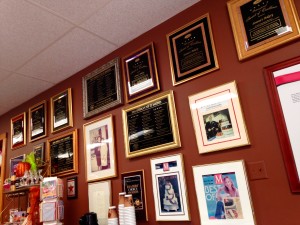 But don't let all this intimidate you, up ahead are the always smiling faces of the employees ready to help you make your decision, and quite a decision it shall be. Whatever you have in mind, Simma's will surely be the best you've ever had. You'll have to decide between muffins of every kind, Danishes filled with cheese and fruit,  their individually packaged signature cheesecakes (which also come in a gluten-free version), or the pastry of the month and other treats like cookies and cupcakes. Either way, Simma's pastries look as good as they taste.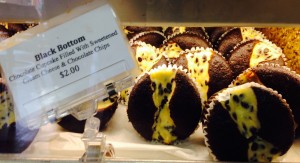 One of my favorite things to get at Simma's is their black bottom cake, a layer of cheesecake and chocolate chips in between a chocolate cupcake! It is just one of the ways that Simma's takes the simplest ingredients and classic flavor combinations and makes something incredible.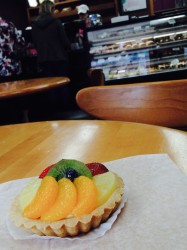 I decided to try something new and get the Simma's fruit tart on today's visit, and I was not disappointed. The buttery crust and creamy custard formed a bed for the fresh fruit glazed with a syrup. It was not only a masterpiece to look at but was a delicious combination that was perfect in every bite.
If all this talk of sugary sweets doesn't have you making your way to the bus stop, take the time out of your day the next time you've got a sweet tooth  to visit Simma's bakery on 68th St. and see for yourself why it's been voted one of America's top 25 bakeries. Don't worry about breaking the bank, Simma's is not just unbelievably tasty, all their treats are a steal. Who doesn't love that?!
Leave a Comment