Alternative Meals on Campus
After a long day of classes, it's only natural for many Marquette students to look around and say, "Pitcher at Sobes?" This often leads into fried pickles, cheese curds and one large cheeseburger that quickly becomes a routine order. Unfortunately, trips to restaurants can create a huge dent in your bank account and typically do not serve students the healthiest options. With that in mind, here are a few easy alternatives to the preferred culinary hotspots on campus.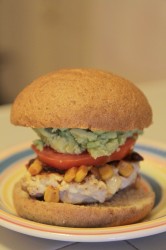 California Turkey Burger
Ingredients:
1lb turkey
Lawry's Salt
Salt
Pepper
Olive Oil
1 egg
2 avocados
Yellow onion
1 red or green pepper
1 tomato
Corn salsa
Wheat buns
 Directions:
After washing your hands, put turkey in a mixing bowl. Add a few dashes of Lawry's, salt and pepper. Mix around with your hands.
Chop up half an onion into smaller pieces. Do the same with a pepper. Then add to the turkey mix.
Add one egg to the mix. This helps the turkey stay together as it cooks. Then sculpt patties with hands.
Heat up a skillet. Once warm, add olive oil to help the turkey cook. Add the turkey once the skillet is hot. (Do not add it sooner; it will cook better if applied to heat immediately)
Every two to three minutes, flip the meat. It should only take between eight and 10 minutes to cook thoroughly. Cut through the middle to check for any raw meat.
Once the patties are done, add the toppings. Chop up avocados and smash in a bowl for homemade guacamole. Include onions, tomatoes and salt for extra flavor. Cut another slice of the onion and tomato for more toppers.
Uncooked meat stays fresh for a couple of days, so you can heat up a burger any time during the week. The Turkey California Burger is best eaten with corn chips from Trader Joe's, a homemade Bloody Mary (made with mini Bloody Mary cans and mini vodka bottles from National Liquor Mart) and enjoyable company.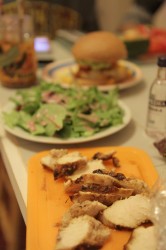 Apple Walnut Chicken Salad
Healthy food options are scarce at Marquette. After Marquette Place is closed, the only way to grab something not fried is at the Annex. Satisfy your cravings for leafy greens with this quick, tasty salad that rivals even those sold in the AMU.
Ingredients:
Chicken breast
Favorite salad dressing (preferably apple walnut from Trader Joe's)
Olive oil
Lettuce
Avocado
Craisins
Prepare:
On your way to class in the morning, marinate a chicken breast in the dressing. Do this for two or three hours before cooking for juicy results.
Directions:
Heat up a skillet with olive oil, and add the chicken once it is hot.
Let the chicken cook on high (without a lid) for two and a half minutes; flip to the other side for another two and a half minutes.
Move heat to medium and cover. Let it cook for 10 minutes while flipping the meat every couple of minutes.
While the chicken is cooking, mix the lettuce and Craisins in a bowl. Slice up the avocado.
Slice the chicken when it is done cooking.
Put the salad, sliced avocado and chicken on a plate. Add dressing as desired.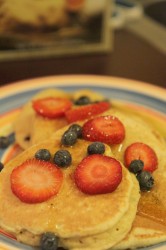 Healthy, Fruity Pancakes
These healthy, multigrain fruit pancakes are not made from scratch, but they will surely remind you of home-cooked meals. Substitute Aunt Jemima syrup for agave syrup, a natural sweetener that is low in calories and just as filling as maple syrup. If you want to add meat to your breakfast, try turkey bacon, a delicious, lean alternative to pork.
Ingredients:
1 package multigrain pancake mix (available at any grocery store. I use Trader Joe's.)
1 egg
1 cup of milk
1 package of strawberries
1 package of blueberries
Agave syrup
Directions:
Follow mix instructions on pancake box, which typically consist of mixing the egg, a cup of milk and pancake mix.
Add blueberries to the mix as desired.
Use about half a cup of mix for each pancake and put it onto a hot skillet.
Flip occasionally for two minutes.
Once done, add strawberries and agave syrup on top.
Leave a Comment