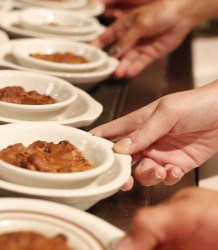 Marquette and Milwaukee have plenty to offer students, especially in the spring. Try to get around to some of these things before you pack up and leave for the summer. 
Take Advantage of the Burger Locations
We all know about the heated rivalry between A.J. Bombers and Sobelman's. Very rarely will you find burgers this good outside of the Milwaukee area. Take advantage of the specials offered at these restaurant, like 33-cent Wing Wednesdays at Sobelman's, or bite into A.J. Bombers' famous bacon cheeseburger. Burger locations like these offer the top taste Milwaukee has to offer. Good luck trying to replicate these burgers in your hometown!
Watch Brewer Baseball at Miller Park
As one of the most glorious ballparks in MLB, Miller Park does not have a bad seat in the house. Its retractable roof not only lets the crowd enjoy the brisk spring air after a brutal winter, but it looks pretty awesome. Of course, there's no greater feeling than watching mascot Bernie Brewer slide down the ridiculous, yellow slide in centerfield after a Brewer home run. The Brewers offer student deals on Friday nights, with ticket prices ranging from $10 to $15. That's an excellent price to see former MVP Ryan Braun and the playoff-contending Brewers. Oh, and prepare yourself for the epic Sausage Race. You can't see that in any other ballpark, folks.
Attend MU Bingo at the Annex
Look, we understand that Bingo isn't for everyone. However, given the potential winnings for a free entry, you'd be crazy not to take advantage. Maybe you could be heading home over the summer with an airline gift card to help pay for those summer vacation travel expenses. We should all take advantage of this while we still can. You've got nothing to lose, so it's certainly worth a shot. You could be the lucky student to bring home a popcorn machine, a digital camera or Marquette basketball jerseys. Bingo has never seen such glorious prizes.
Play Sports on the Turf at Valley Fields
Free to Marquette students, Valley Fields provide prime spots to host a game of football, or any other sport for that matter. Valley Fields is the closest thing that we have to a collegiate sports arena, and all students have access, not just athletes. It makes for a good time under the lights, an opportunity that we certainly wouldn't get with any field at home. Let's be honest, Valley Fields give us the opportunity to pretend we're professional sports stars. There's nothing like playing on the turf, and it should be on everyone's checklist to head down there before the semester ends.
Consume a Final Hot Cookie
Out of all the things Marquette has to offer, the one that so many of us will miss the most is the hot cookie. Everyone remembers the first time they had a hot cookie. It's hyped up for a reason. If you live in a dorm and you're on the meal plan, you're going to be sought after by the upperclassmen, begging you for a guest swipe into the dining halls. The legend of the hot cookie is real, and it's something that cannot be simply explained to your friends back home. We have the right, no, the privilege, to hot cookies at Marquette. We should all enjoy one before we head back home for summer break.
Story continues below advertisement