Schlabst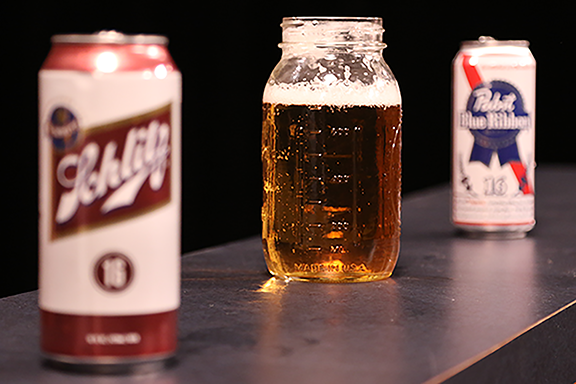 Composed of a simple mixture of Schlitz and Pabst Blue Ribbon beers, Schlabst has gained popularity at local bars all around Milwaukee. Peter Wilt, a Marquette 1982 journalism graduate and the first president and general manager of the Chicago Fire soccer club, invented the brew in the summer of 2008 when he couldn't decide which beer to enjoy.
The indecisiveness of Wilt, with the help of bartender Robyn Vinje of the Highbury Pub at 2322 S. Kinnickinnic Ave., formed a creation that has taken a run of the city.
"Robyn (Vinje) went to get me a Pabst, which is my normal beer, and while she was reaching down to get the Pabst, I changed my mind," Wilt said. "'No Robin! Get me Schlitz instead.' So she went to reach for the Schlitz, and I said, 'No, no, no. Make it a Pabst… No. No. make it a… you know what? Just get me both of them.'"
Today fans sport Schlabst hats, T-shirts and pint glasses. In addition to the Highbury, patrons can ask for a Schblast at Leff's Lucky Town in Wauwatosa, AJ Bombers on Water Street and the famous Milwaukee Brat House on Old World 3rd Street.
"The Schlitz has to be on the bottom, otherwise it would be Plitz," Wilt said. "So about halfway you go with Schlitz, and then you top it with Pabst … you don't have to use a spoon like you do with a Black and Tan."
"It's got the nice kind of bitterness from both beers," said Wolf Krekel, a senior in the College of Business Administration and bartender at Caffrey's Pub. "It's smooth. It goes down nice, and it's easy to drink."
Without the certain "science" of the mixture, the one-two punch of the drink drops in flavor.
Surprisingly, the beer hasn't hit Marquette's bar scene yet. Caffrey's serves Pabst Blue Ribbon and Schlitz, but they have not offered Schlabst yet. 

Wilt left the Chicago Fire in 2005 to help foster a grassroots movement in Indianapolis, which eventually led to the North American Soccer League club Indy Eleven, a team that sold out every game in its 2014 inaugural season.
"The younger generation, the 18-to-34-year-olds, they get (soccer)," Wilt said. "First generation (Americans), they obviously know the sport. They bring a passion for the sport from their home countries."
Now, Wilt has put a lot of his focus on bringing a NASL team to Chicago, a place where the ideal soccer demographics flourish.
Wilt also shares the same dream as Milwaukee Barons leader James Moran, whose organization's mission is to bring a professional soccer team to the Cream City.
For the fans, soccer and beer go hand-in-hand. Milwaukee's version of the "Black and Tan" has a unique opportunity to continue traveling with Wilt, a man on a mission to spread the beautiful game and his own beautiful drink.
Leave a Comment