Wojciechowski introduced to Marquette community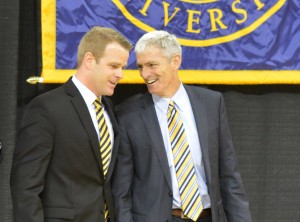 Interim Athletic Director Bill Cords wrapped up his introductory remarks with a request to the hundreds of media, students and fans packed into the Al McGuire Center Tuesday afternoon.
"Marquette family, and to all of you, let's welcome the head men's basketball coach of Marquette University, Steve Wojciechowski," Cords said.
What resulted was a raucous, nearly 30-second standing ovation that characterized the level of excitement shown by the Marquette community on social media that day and by the attendance at a news conference scheduled just two hours in advance.
The wide-reaching basketball family, which just days earlier felt lost when Buzz Williams left the university and felt duped when Shaka Smart wasn't a done deal, welcomed its 17th coach with fervor.
To his credit, Wojciechowski responded with equal gratitude and anticipation in his 25-minute opening address.
"I'm both honored and humbled to be standing before you today," Wojciechowski said. "Thank you all for being here, and thank you John (Ferraro), Father Wild, Bill (Cords) and Dr. (Michael) Lovell for giving me this amazing opportunity."
That humility showed frequently, and those in the audience often cut off the new coach to applaud what he said. Just two minutes after the ovation, the fans in attendance applauded again after he put the moment in the context of his already storied career.
"The game of basketball has been incredibly good to me," Wojciechowski said. "It's taken me places that are beyond belief. But today, I stand here and this is the most proud day in my basketball life."
One place Wojciechowski credited multiple times was Duke, where he played from 1994 to 1998 and served as assistant coach and associate head coach under NCAA all-time wins leader Mike Krzyzewski for 15 years.
"What I've learned from (Krzyzewski), both as a player and as a coach, has been invaluable," he said. "He's allowed me to understand just how fun and incredible the game of basketball is, but, when used the right way, how it can change your life. I hope to do that at Marquette."
Marquette's student-basketball culture reminded Wojciechowski of Duke's and he said he plans to promote that similarity as much as possible.
"I cannot wait to get to know our students," he said. "I come from a place where the students at the university and the basketball team are one, and that's what I want to do here."
Cords and President-elect Lovell also made sure the fans and media knew their new coach worked with the best in the world at the 2008 Summer Olympics in Beijing, where the US team won gold.
"He's helped some of the most superior athletes in the world as part of USA Basketball," Lovell said in his opening statement. "You may recognize a few of those players: LeBron James, Kobe Bryant and even our own Dwyane Wade."
That experience with the best players on the planet struck a chord with many of Marquette's players, including junior point guard Derrick Wilson.
"As a team as a whole, we're all really confident in him knowing the guys he's worked with," Wilson said. "He must be doing something right to be able to coach at that level."
Consistently throughout his speech, Wojciechowski referenced the speed with which the hiring process was conducted. Ultimately, though, he was able to step back and cherish the moment of meeting his new team.
"In a whirlwind couple of days, there were things that I will always remember," he said, beginning to choke up. "Today, a moment that I will always remember is walking to the locker room the first time and seeing my new team. I could not be more excited to get to work with these guys."
Wojciechowski faces an uphill battle and must hit the ground running in order to keep Marquette's current roster together and maintain its 2014 recruiting class. However, he has one major goal that he used all the time at Duke to get through the initial adversity.
"I want to win every day," Wojciechowski said. "I want to win every day as basketball players, I want to win every day as students and I want to win every day, most importantly, as people. I think we can all get behind that."
Leave a Comment