Cords updates coach search, plans to stay another year as AD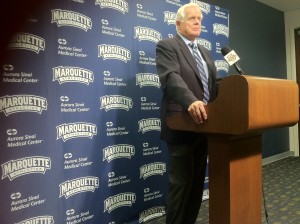 Marquette's Interim Athletic Director Bill Cords held a news conference Thursday afternoon to update local media on the status of Marquette's search for a new men's basketball head coach.
The most notable takeaway from the conference was Cords' announcement that he will fill his current position for about another year. This means, of course, the university does not plan to hire a new athletic director before it hires a new coach.
The conference came in the wake of confusion brought on by erroneous social media reports regarding potential candidates for the position including Monday's fiasco involving VCU coach Shaka Smart.
Men's basketball Sports Information Director Scott Kuykendall opened the conference by restating his desire to work with media on future developments to avoid further mix-ups.
"If you think you know something or have a source and want to report it and want to check with me if I can keep you from getting something out there that's not right I will do that," Kuykendall said. "That's all I really want to say. It was unfortunate (Monday) happened. We're ready to move on and hopefully you guys are."
Cords opened his remarks by stating that all media would be given equal treatment in regards to further updates on the search.
"Everybody's going to be treated fairly, there's no scoop deals," Cords said.
He then shared a relatable anecdote involving former Marquette coach Tom Crean. Cords recalled leaving Crean at practice one day only to hear a radio report that Crean had been sighted in Columbus, Ohio and was expected to take over the Ohio State head coaching position just hours later.
"So I got on the cell phone and Tom answered and I said 'Tom, congratulations' and he said 'What for?' and I said 'You are the new head coach at Ohio State.' He said 'Well thank you, I'll go back to practicing with my team.'" Cords said.
After reaffirming Marquette's President-elect Michael Lovell's love for athletics and his understanding of the importance of sports to the university, Cords got down to the main topic of the conference.
"We have to respect the people that are involved that are interested," Cords said. "Some of them could be assistant coaches, some of them are head coaches. We have to make sure they're respected in terms of (confidentiality)."
Cords assured the media the position has received a high level of interest, and the pool of candidates is stronger than it's ever been. He said the search began immediately following Buzz Williams' departure for Virginia Tech and that Marquette's lack of a president did not impact the process.
"We don't neccesarily worry about the competition and (don't allow) it to have any impact on the speed we're going," Cords said. "We're going at a good pace. We think we have a really good program and it's very attractive and so we're going to go at the pace that we feel is the best for us to get the best person."
In regards to Marquette's recruits, Cords said the program will not release any commits and restated its policy that any recruit must first meet with the new head coach after his hiring before requesting release.
Cords again clarified an incident over the weekend in which 2014 commit Sandy Cohen III tweeted he was granted release from his National Letter of Intent. He recounted his discussion with Cohen and stated that he and the rest of the commits are "fine."
Cords laughed when asked about the now infamous Shaka Smart rumors, stating that a phone call from a friend congratulating him on the hire Monday was the first he'd heard of them.
He could not, however, confirm or deny that Smart had been contacted by Marquette that day.
Finally, Cords reiterated that Marquette is not a "stepping stone" program and expressed disappointment with Williams' recent negative comments regarding the Big East Conference and Fox Sports.
"You always look for coaches to stay," Cords said. "We feel that we have everything in place in terms of support, facilities to make sure that person has a chance to do what we all want to do and that's get back to the Final Four and win a national championship. That's our vision.
"Fox Sports has done everything they possibly can. They are a well lead, ambitious, energetic network that is broadening its base, broadening its program … We're going to make this conference better than it is now and we're going to continue to do that. I think Marquette plays a role in that, a big role … It's not a down-size, it's a challenge."
Leave a Comment