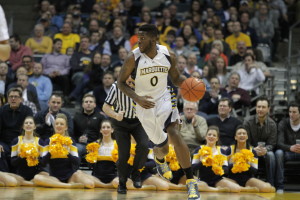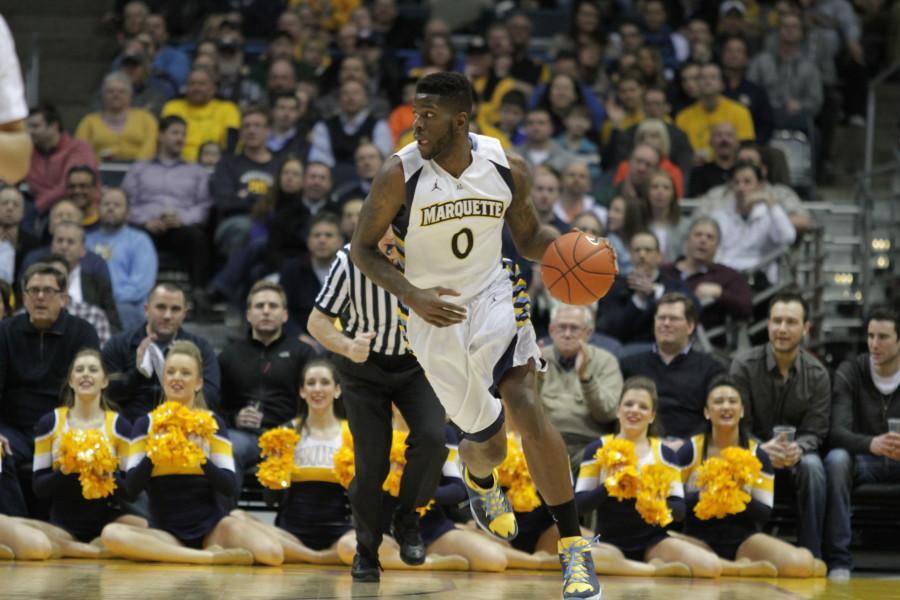 For those who still held out hope that Marquette could reach the NCAA Tournament as an at-large selection, Sunday provided the final nail in the coffin.
After a definitive 73-56 drubbing at the hands of No. 8 Villanova, the Golden Eagles' big dance dreams are dead, barring an unprecedented Big East Tournament championship.
While Darrun Hilliard torched the Marquette defense with a career-high 26 points, the Golden Eagles couldn't find any consistency at their own offensive end.
Marquette shot just 40 percent from the field and gave the ball away 15 times, leading to 21 Villanova points off turnovers.
With Hilliard leading the way, the Wildcats' multi-faceted attack proved too much for Marquette's defense.
"Hilliard has always caused us problems," coach Buzz Williams said. "But it's partly because we're so concerned about (JayVaughn) Pinkston and (James) Bell and (Ryan) Arcidiacono – those guys are all really good players. But it's the collection of how they play, I think, that makes them so good."
Senior Jamil Wilson, one of the Golden Eagles' deadliest potential weapons, didn't even attempt a field goal until late in the second half. He made just one of four field goals and two free throws, finishing with five points.
Seniors Davante Gardner and Jake Thomas combined for 48 points in Thursday's win over Georgetown. Against the Wildcats, however, Thomas knocked down just one of his seven three-point attempts and Gardner posted a pedestrian eight points, scoring just three field goals.
Thomas and Gardner combined for 13 points, tying the solo effort of Marquette's lead scorer, freshman Deonte Burton.
It was another good individual effort for the tough freshman as he went five for seven from the field. Most of his points were well-earned tough shots against a quick, imposing Villanova defense that stifled the rest of the roster.
Junior Todd Mayo chipped in 11, but even the Golden Eagles' go-to scorer, who nearly led Marquette to an overtime comeback win against the Wildcats Jan. 25, could not get into a rhythm.
Even more impressive was Villanova's defensive job against Gardner, who notched a career-high 29 points in the first meeting.
"It was really difficult to get it inside to him," Williams said. "The baskets he did score, one was a straight-up post move, but two of them – one was on their pressure and the other was off dribble penetration. They did a great job, not just on their interior defense, I think they did a great job overall."
Marquette came into the contest in desperate need of an upset, but Williams said his team couldn't match the Wildcats' high level of focus and intensity.
"I would say the number one disappointment was we didn't play as hard as we needed to in order to beat a team as good as Villanova. I thought at times we did, but from pillar to post, we didn't … You have to play at a very high level from an intensity standpoint, and we did not do that the entire game."
The Golden Eagles will go without a top-25 regular season win for the first time since 2001, as they whiffed on five total opportunities against Ohio State, Wisconsin, Creighton and Villanova. Their highest RPI win remains a 76-60 victory over George Washington Nov. 29.
Marquette's final two games against Providence and St. John's do hold meaning, however. If the Golden Eagles can avoid slipping into seventh place, occupied by 7-9 Georgetown, they will earn a bye in the first round of the conference tournament.
The highest possible seed Marquette can acheive is No.3, and attaining it would pit the Golden Eagles against the sixth seed next Thursday at Madison Square Garden. That's assuming they win out and get a little help from third-place Xavier (10-7).