Missed free throws lead to missed chance versus Creighton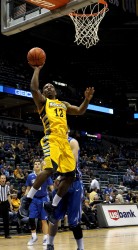 Marquette tried its best to hold off No. 11 Creighton in front of a raucous home crowd. However, stretches of poor defense and key missed free throws doomed the Golden Eagles' chances at a much-needed RPI boost in the 85-70 loss.
The game felt like a repeating cycle in which Marquette cut the deficit to two or three possessions only to miss chances at the charity stripe and allow Creighton to answer with a run.
The Golden Eagles missed 16 free throws to shoot a measly 55.6 percent from the line. In a game Marquette lost by fifteen, every brick went a long way.
"That's one of our priorities," coach Buzz Williams said. "If we shoot around 70 percent from the free throw line, our points per possession numbers are much better. We're built to shoot free throws in the same manner that they're built to shoot threes. You have to make more than 56 percent of your free throws."
Defensively, the Golden Eagles struggled to get consecutive stops and had a difficult time capitalizing on opportunities.
Marquette corralled 12 offensive rebounds and scored 15 second-chance points, but appeared to leave even more second chance points on the floor. The Bluejays grabbed just one offensive board, but coach Greg McDermott said he was more concerned with getting his team's defense set each possession.
One way or another, Creighton's offense flowed through Player-of-the-Year candidate Doug McDermott. In the first half, McDermott scored just eight points but skillfully passed out of double teams to the Bluejays' open, ice-cold shooters. He picked up the slack in the second half with 17 points, including a three-pointer with about six and a half minutes left that served as an early dagger.
"He's constantly moving," Marquette point guard Derrick Wilson said. "He's maybe the most active player in NCAA basketball. That's probably why he gets so many shots. That constant movement is really tough to guard, especially when a guy that size can both shoot and play inside."
Wilson also praised McDermott's supporting cast, most notably its ability to knock down three-pointers seemingly at will.
The Bluejays knocked down 12 of their 23 attempts from beyond the arc, which accounted for over half of their total field goal attempts. They announced their presence from downtown early as five of their first six field goals were 3-pointers.
"They put you in a lot of situations where you have to pick your poison," Williams said. "We tried a lot of different things, weren't successful at many. They're really good, all credit to them. They beat us, straight up."
While the emergence of a hot hand is a common factor in Marquette's wins this season, the Golden Eagles couldn't find a consistent go-to guy in the second half Wednesday night. Four Marquette players reached double-digits, but no one scored more than Todd Mayo's 13 points.
Despite the loss, Wilson said the team's confidence has grown and defeat won't put them back into a slump.
"I think we are really good," Wilson said. "Sometimes we have lapses, but I feel like we're starting to put it together. It's hard to beat teams like Creighton, but I think we're starting to pull together."
Leave a Comment