Marquette captures first conference home win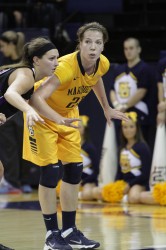 The Marquette women's basketball team struggled against the Providence Friars through the first 10 minutes of the first half in Tuesday night's game at the Al McGuire Center.
Leading 24-22 at the eight-minute mark, the Golden Eagles (13-4, 4-2) went on a 22-7 run to close out the first half and catapult the team to its first Big East victory of the season at home, winning 87-79.
Coach Terri Mitchell said the key to the dominant eight minutes was an emphasis on attacking the defense and spreading the ball around.
"I think you look to attack, but we got many people involved," Mitchell said. "We never can be a team that has two people in double figures, we need to have four or five every game."
The Golden Eagles had five players in double figures Tuesday night. Senior Katherine Plouffe led the team with 23 points, junior Arlesia Morse scored 13 points on 5-of-13 shooting, sophomore Brooklyn Pumroy and senior Katie Young both chipped in with 12 points and junior Apiew Ojulu contributed 11 points.
Despite notching its first conference victory of the season at home, Young said the win doesn't mean much for the team's long-term goals.
"We have a long road to go," Young said. "We have a bigger goal at hand and we have a tough game coming up at Creighton so that's what we're focused on."
Mitchell said she was pleased with her team's response after a tough loss to St. John's last Saturday and was especially proud of the mentality in practice.
"No one felt sorry for themselves, we made a choice to get better and we did," Mitchell said. "Now we have to do that Thursday and Friday to go to Creighton."
One problem Marquette faced in its last two games is turnovers. The Golden Eagles turned the ball over 43 times combined in their last two games against St. John's and Providence.
"I think it's the team's focus," Young said of the turnovers. "We're just going to come together and go back to the drawing board. We're going to make that more of a focus in practice."
Mitchell wasn't happy with her team's sloppy play but mentioned that Tuesday's turnovers were more manageable than last Saturday's miscues.
"Part of it was being too aggressive, but I'll live with those turnovers," Mitchell said. "I don't want to turn it over, but I'd rather turn it over knowing that we were trying to do something positive with it, versus sitting back and having a soft pass."
Marquette's next game is on the road against second place Creighton. The Golden Eagles have posted a 5-0 record in true road games this season.
Mitchell said she is excited for her team's first conference game against the Bluejays in Omaha, Neb., and said she expects her team to continue to improve as the conference schedule trudges on.
"I've coached there before, it's new to this team, not new to me," Mitchell said. "It's just another battle in the Big East and it's a great opportunity to get better. When you are six games in the conference and you have 12 left, you have to keep building on each experience."
Leave a Comment