DPS Chief Rickard dedicates 21 years of service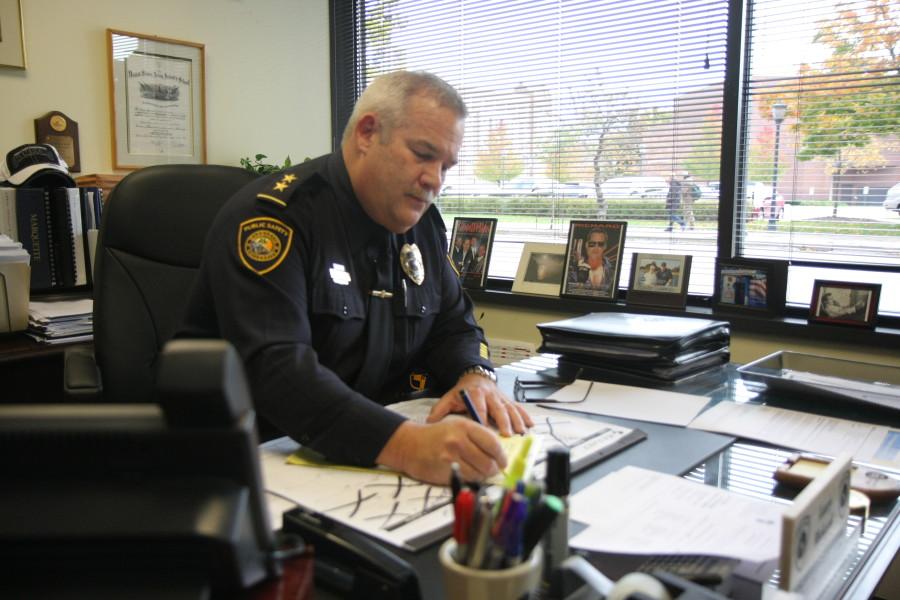 Marquette's Department of Public Safety Chief Larry Rickard is not the stereotypical face of law enforcement. Yes, he enjoys "catching the bad guy," but instead of the expected stern look painted on his face, he has a cheerful smile and a unique sense of humor that flows through the whole DPS office. This month is a special one for Rickard. October marks the 21st year he has been with DPS and the 13th he has been chief.
Rickard's life in public service began when he attended West Point Preparatory School in New Jersey, which prepares students for the U. S. States Military. From there, he made his way to Wisconsin when he was recruited by UW-Whitewater to play football. His West Point roots prepared him for his 22 years spent in the military. Once out of the military, he wanted a life in public service. He decided to apply for Marquette's DPS program and was accepted.
Rickard started at Marquette as a public safety officer working the night shift. He describes this time as an opportunity to better understand the university and DPS as a whole. He moved to the life safety officer position working on evacuation plans and was later promoted to lieutenant shift commander. He was then promoted to associate director captain and held that position for five years. Eventually, he was selected as chief.
"(In) our department, we never want to be just average," Rickard said. "We want to exceed all expectations, and I know the officers feel that way. We want to ensure that we are keenly aware (of) the feelings of our students, faculty and staff understand that it is extremely important to deliver the best service to the community."
Rickard said his and the officers' have a personal connection with the crime, a result of their close ties to the student body.
"I think the thing that makes us unique is that we take every crime that happens very personally," Rickard said. "We are never going to eliminate all crime, but we are going to work as hard as we can to help educate our students about how to live in a safe and sensible way in an urban community that offers immeasurable opportunities."
Rickard's co-workers have a high level of respect for their chief and said he incorporates his caring personality into his leadership.
"He leads by example and shows his genuine care for the safety and security of the Marquette community on a daily basis," Lt. Paul Mascari said. "Our department truly has become one of the best Jesuit public safety departments in the country under his leadership."
Cpt. Russell Shaw, associate director of DPS, said Rickard's leadership inspires him and his officers to do their best work.
"Working with Chief Rickard and being his associate director over the past several years has been a real honor," Shaw said. "The chief is firm, but fair, and holds the officers and myself to the highest standards."
Despite being focused on work, Rickard remains a family man. He and his wife, Lisa, have been married for 30 years. They have two sons, both of whom are following in their father's footsteps in the military. Brandon, who graduated from Marquette last year, is a second lieutenant in the army, and Larry Jr., who still attends Marquette, is an Iraq war veteran. Chief Rickard's quad of officers and the Marquette community serve as a second family to him.
"As I'm closer to the end of my career than the beginning, I certainly want to take this valuable time to pass on some of my learned knowledge and experience to developing some of the younger leaders within the department," Rickard said. "I've really found great satisfaction in really helping people grow and achieving their full potential."