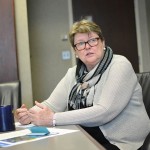 In September 2012, a man approached a 21-year-old Marquette student near 17th Street and Kilbourn Avenue late in the evening as she headed home from classes.
The man began to touch the woman's buttocks, even after she told him to stop, according to court records.
Two days later, the same man approached another Marquette student, this one a 20-year-old walking down W. Wells Street around 10 p.m. He reportedly grabbed her buttocks and she tried to pull away, but he then grabbed her breasts.
She eventually broke free, ran away and called police, who arrested the man on the 2600 block of W. Wells, the court records say.
The man was Kendrick Mitchell, a 21-year-old who was eventually found guilty of one count of fourth degree sexual assault and one count of obstructing an officer. He was sentenced to nine months in prison and 18 months of probation, according to court records.
This is a rare case of successfully prosecuted sexual assaults.
This is the third article in a three-part series looking into sexual assault reporting at Marquette. Read the full article here and the rest of the series here.
Story continues below advertisement