Despite high profile incidents, DPS has normal year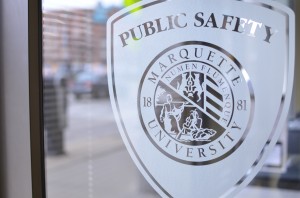 The year included a Department of Public Safety officer being assaulted, students being sent to the hospital after taking hallucinatory drugs and multiple cases of sexual assault, but Russell Shaw, the interim director for DPS, said that for the most part, this school year was not out of the ordinary.
Most recently, a string of sexual assaults at fraternity houses and other off-campus neighborhoods caused concern, although Shaw said it mostly has to do with behavioral problems.
"It's behavior that's become almost something that people think is OK to do," Shaw said. He added that sexual assault is a serious crime, and you can look at it in two ways.
"It's good people are coming forward, there's some good seeing that people are brave enough to report those crimes to us," Shaw said. "When more people report it, we hope people realize that this has to stop, it's too serious of an issue."
The White House even stepped in to combat the issue of sexual assault, releasing a PSA Tuesday to help prevent it, along with a 20-page report from the White House Task Force to Protect Students from Sexual Assault that pushes colleges to survey their students about sexual assault and other "campus climate" issues.
Besides sexual assault, Shaw also mentioned robbery and theft, especially theft of cell phones, as a major issue DPS dealt with during the year.
"We went through a spike earlier in the year, with theft from cell phones," Shaw said. "(We've seen) a decrease in the second semester and that's good to see. People are being more cognizant of who's around them. Any armed robbery is too many, but I think getting the information out to students is important."
Shaw said the decrease in robberies can be attributed to the increase of ridership on LIMOs.
He also said alcohol and drug violations are the most pressing problems affecting students' health.
"Alcohol is still the drug of choice, the drug we see the most," Shaw said. "We've had some incidents with hallucinatory drugs, but alcohol and marijuana are still the main things we give citations for."
In January, five students were admitted to the hospital after reportedly ingesting an unspecified illegal drug. As part of the investigation, one female student was also taken into custody by the Milwaukee Police Department for allegedly distributing the drugs.
Shaw added there were not too many major alcohol problems, although there were multiple alcohol violations.
As the year comes to a close, he said he is pleased with what the department accomplished in his first year as the interim director.
"Overall, you're never satisfied in this job, any crime is too much," Shaw said. "But at the same time you have to be realistic by saying 'Hey, keep it to the bare minimum,' and I think the department has done a good job. When it's all said and done, the numbers are similar to last year, save some drug offenses."
DPS is still looking for a permanent chief—a search which started after former chief Larry Rickard retired in September. Whoever the chief is, Shaw's advice to students for the rest of the semester and next year is simple: be aware.
"Use common sense," he said "be in control of yourself."
View Comments (1)