Gargano found guilty, on two-year probation following assault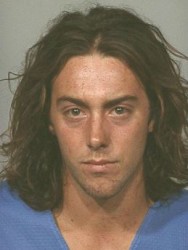 Former men's lacrosse player Charley Gargano was found guilty Tuesday of substantial battery with intent to cause bodily harm, battery and disorderly conduct, though judgement of conviction was delayed two years due to his attorney's negotiations.
Gargano, after entering a plea of guilty, was found guilty of three counts in the trial originally scheduled for Feb. 24. Substantial battery with intent to cause bodily harm is a felony, while the other two counts are misdemeanors.
According to the criminal complaint for the case, Gargano struck Department of Public Safety officer Annette Demeuse after she arrived to assist another officer, Valerie Gunderman, who found Gargano and two other students in a verbal altercation Sept. 15, 2013.
For the battery count, the court imposed six months at a House of Correction, with credit for two days time served, and placed him on probation for two years. The court then imposed another three months at the House of Correction consecutive to the first six months.
The court allowed the sentence to be transferred to Colorado, where Gargano now lives, if Colorado accepts the transfer. Gargano needs to undergo a mental health evaluation and follow through with any treatment recommended from said evaluation. He is also not allowed to use any controlled substances, including alcohol, other than those legally prescribed for him by a physician for medical or mental health needs.
He is also required to undergo anger management counseling, urine screens and alcohol and other drug assesments and treatment. He is prohibited from any contact with Demeuse, Marquette and its campus except for transfer requests for transcripts, references from his lacrosse coach or references for employment. He must get permission from his probation officer before making the contact for references, however.
Gargano is scheduled to appear in court again March 16, 2016 for a review hearing. His $886 bond was paid Thursday.
Capt. Russell Shaw, interim director for DPS, said Gargano was acting "very erratic" the night of the incident. After Gargano initially complied with the officers to get on the ground, he got up and ran at Demeuse, striking her and knocking her into a concrete planter. Several Milwaukee Police Department squad cars, fire trucks and an ambulance arrived at the scene. Both DPS officers received medical attention, while Demeuse suffered a nasal fracture and a broken orbital bone in her face. Demeuse also received eight stitches above her left eye.
Before the incident, Gargano reportedly attended a concert at The Rave, 2401 W. Wisconsin Ave. According to the criminal complaint, Gargano said he "voluntarily ingested the hallucinogen, lysergic acid diethylamide on four seperate occasions," while at the concert. Gargano told investigators he had "little recollection of what occured after that point, and has no memory of committing a battery."
The criminal complaint also said because Gargano was so intoxicated, the Milwaukee Fire Department needed to sedate him after DPS tried to subdue him with pepper spray. The complaint said Gargano fled the scene and was apprehended by a DPS officer on the median on Wisconsin Avenue between Johnston Hall and Carpenter Tower.
Leave a Comment