Gargano no longer an MU student as trial approaches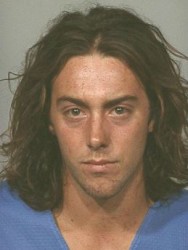 Former men's lacrosse player Charley Gargano faces his final pre-trial Feb. 4 before his jury trial Feb. 24, but the former junior is no longer a student at the university.
Information concerning how and when Gargano withdrew from Marquette is not available due to federal law, said Brian Dorrington, senior director of university communication. Dorrington did, however, confirm Gargano is no longer a student at Marquette, and Lucas LeNoble, director of emerging media for the athletic department, confirmed Gargano is no longer a member of the lacrosse team.
According to the criminal complaint, Gargano allegedly assaulted DPS officer Annette Demeuse Sept. 15. He allegedly struck Demeuse after she arrived to assist another officer, Valerie Gunderman, who found Gargano and two other students in a verbal altercation.
Gargano made his initial appearance in court Sept. 20, when his cash bond was set at $1,000. His preliminary hearing was Sept. 30 and he appeared in court again Oct. 8, Oct. 29 and Dec. 9.
At the hearing Oct. 8, Gargano pled not guilty to the charges of substantial battery with intended bodily harm. After the hearing Sept. 30, Gargano's attorney John Schiro, of the firm Schiro & Zaryzynski, said Gargano's actions were out of character.
"He comes from a wonderful family," Schiro said. "He has never been in jail before."
Russell Shaw, the interim director for DPS, said Gargano was acting "very erratic" the night of the incident. After Gargano initially complied with the officers to get on the ground, he allegedly got up and ran at Demeuse, striking her and knocking her into a concrete planter. Several Milwaukee Police Department squad cars, fire trucks and ambulances arrived at the scene. Both DPS officers received medical attention, and Demeuse suffered a nasal fracture and broken orbital bone in her face. Demeuse also received eight stitches just above her left eye.
Before the incident, Gargano allegedly attended a concert at The Rave, 2401 W. Wisconsin Ave. According to the criminal complaint, Gargano said he "voluntarily ingested the hallucinogen, lysergic acid diethylamide on four separate occasions," while at the concert. Gargano told investigators he had "little recollection of what occurred after that point, and has no memory of committing a battery."
The criminal complaint also stated that because of Gargano's intoxicated state, the Milwaukee Fire Department needed to sedate him after DPS tried to subdue him with pepper spray. The complaint also stated that Gargano fled the scene and was apprehended by a DPS officer on the median on Wisconsin Avenue between Johnston Hall and Carpenter Tower.
Leave a Comment