Day Two of Pitchfork Music festival was hectic and wild, with delays due to weather, canceled sets and a midday festival evacuation. Despite the unfortunate circumstances, a string of memorable performances saved the day and the night ended on a high note. Here's our day two recap, detailing the events of the day, with some notable performances. 
Deeper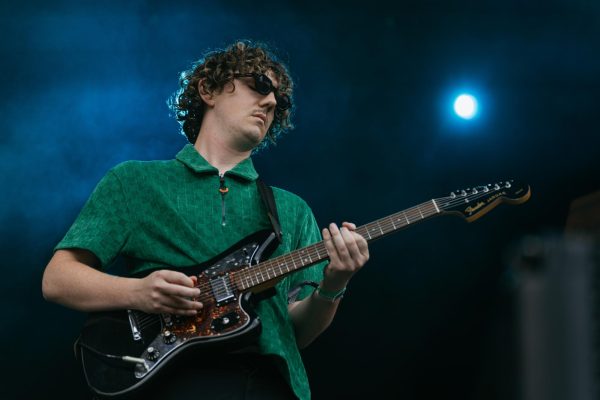 Though Day Two was fraught with weather concerns, the day started with a standout performance from Chicago indie rock group Deeper. All graduates of the Chicago DIY scene, the band knows how to play a fun and engaging show. Impressive instrumentation, cool outfits, and fun stage presence defined the opening set, and although their show got cut two songs short, they left a mark on Pitchfork's Green Stage. I was most impressed by singer Nic Gohl's unique vocals, which in some ways sounded better than their recordings. —Sam Baughn
Rain Check 
Near the very end of Deeper's set, the very first band to play on Day Two, the festival cleared the crows back almost 100 feet from the stage, cutting off their final songs. Stages were cleared for nearly an hour, resulting in the cancellation of Palm's set, and the delay of the start of 700 Bliss' show. Crowds waited in the center of Union Park for about an hour, until the festival got back into swing around 2:40. 700 Bliss, Black Belt Eagle Scout, and MJ Lenderman continued their sets as planned, and Palm's set was rescheduled for Day Three of the festival.
Further delays occurred around 4:10, just two songs into Vagabon's set at the Blue Stage. Though initially it seemed this delay would be just like the last, around 4:30 the festival announced on all PA systems that due to unforeseen weather circumstances, the festival would be evacuated. Communication with the festival was initially unclear, however the Marquette Wire was able to confirm this information. The press was taken to a secure location, and we remained there until around 5:45, when gates were reopened at the festival. 
This evacuation resulted in the cancellation of Panda Bear + Sonic Boom and Snail Mail, who were not rescheduled although they were two of the highly anticipated sets of the evening. Julia Jacklin was rescheduled for a brief, thirty-minute set at Pitchfork's Blue Stage. —Sam Baughn
King Krule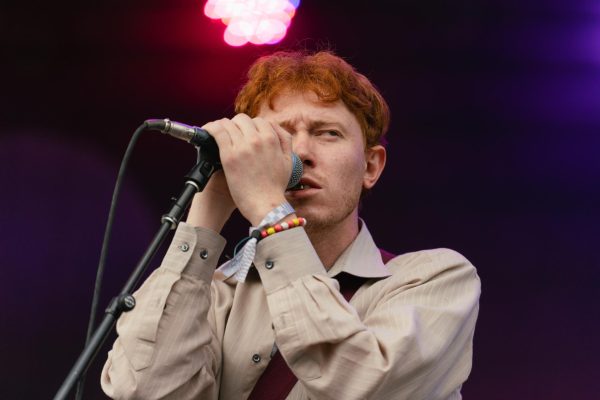 King Krule caught the crowd's attention right away, being one of the only performers with a full backdrop setting which featured the cover art from his newest album "Space Heavy." King Krule performed with a complete band on stage with him, including saxophonist Galgo playing both an alto and baritone. He performed newer tracks from "Space Heavy," but also crowd favorites such as "Dum Surfer." 
Krule's vocal style is unique, he is an artist who is easily recognizable, and his live vocals were just as impressive live as they are recorded, more even. His lyrics are simple but paired with complex sounds which makes his music relatable to many different people in many different situations. The contrast in his music, made his performance all that more engaging, moving at many different paces, making for an unforgettable performance all around—Sofía Cortés 
Weyes Blood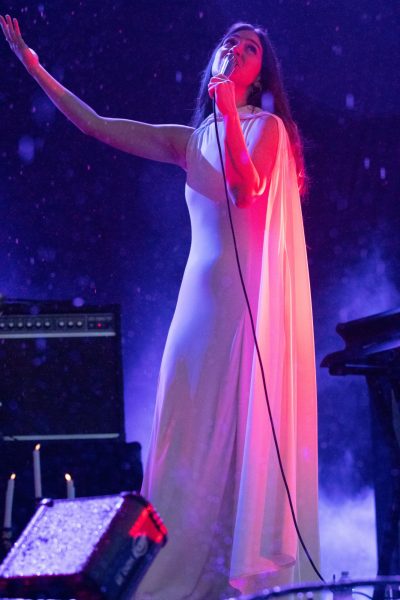 Weyes Blood has mastered every aspect of live performance. Live instrumentation, vocal performance, set design, costuming, lighting, emotional impact and crowd interaction, you name it. Her set was undoubtedly my favorite of the weekend so far, and though I expected to be moved, the sheer emotion that I felt during the experience was overwhelming.
Towards the second half of her performance, during "God Turn Me Into a Flower," rain began to pour from the sky. As we were led into the photo pit to photograph the last three songs of her set, the rain picked up, and with it the emotional tension she had built with her performance burst. 
During her penultimate song "Twin Flame," I fell to my knees, taken hold by the emotion of the moment. The rain poured down, as if the clouds too were moved to tears, and I cried at the sheer beauty of her performance. Her set was undoubtedly the best of the weekend so far, and you'll be able to read more about it in our post festival coverage. —Sam Baughn
The night ended with a stunning performance from day two headliner's Big Thief. You can read more in our headliner recap here.
This story was written by Sam Baughn and Sofía Cortés. They can be reached at [email protected] and [email protected].