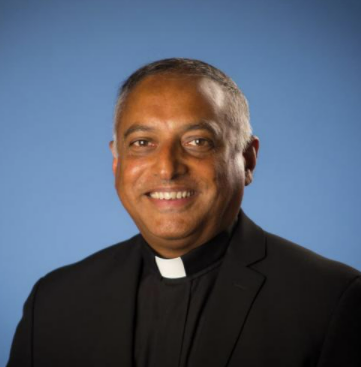 Former Marquette business professor and reverend, Nicholas Santos, was recently appointed to the University Board of Trustees.
The Board of Trustees is responsible for "preserving and enhancing Marquette's mission and ensuring that long-term planning and goals are defined and executed by the university community." 
The board is also responsible for electing new members, who serve for three-year terms and may be re-elected to serve for a maximum of 12 years. Members are not compensated for their service. With Santos's recent addition to the team, the Board now consists of 30 members. 
Prior to his teaching career, Santos built up his credentials at Marquette, earning both an MBA and an interdisciplinary Ph.D. 
Santos later went on to work as an accountant in a chemical transportation company, a treasurer in two of the major trusts of the Pune Province of the Society of Jesus, a teacher at an evening commerce college in Pune India, a visiting scholar at Santa Clara University and then served as a professor in Marquette's College of Business Administration for eight years. 
Santos now serves as the rector of the Jesuit Community in Omaha, Nebraska, and is an associate professor of marketing in the Heider College of Business at Creighton University. 
University Spokesman Kevin Conway said the university is pleased to welcome Santos back into the Marquette community. 
"In his time at Marquette, he demonstrated a commitment to our mission, vision and guiding values," Conway said. "We are thrilled to add his expertise and passion for Marquette to our talented and dedicated group of trustees." 
During Santos's time as a professor in the College of Business Administration, David Clark, a professor of economics, said his interdisciplinary work helped shape the college's thinking on how to pursue scholarship and teaching in traditional business fields.
"He speaks the language of business, with undergraduate and graduate training in traditional business disciplines but he also understands what distinguishes Jesuit education," Clark said. "I am certain his perspective will be valuable as the board charts a course for the university."
Clark's relationship with Santos went beyond academics, as he was not only a colleague during his time at Marquette, but a friend. With this in mind, Clark knows Santos's unique and holistic perspective will also be an asset to the Board of Trustees. 
"Santos knows Marquette University very well, from the perspective of a Jesuit, a student and a faculty member," Clark said. "His Jesuit faith intersects with teaching, scholarship and service." 
Vice President for Research and Innovation, Jeanne Hossenlopp, also said it is Santos's global perspective based on life experience and research interests that will bring value to the board, as he has insights from his time at Creighton and Santa Clara University, which are two other Jesuit universities. 
Hossenlopp got to know Santos when he served as a member of the extended research and innovation team at Marquette. There, Hossenlopp and Santos were asked to work together to lead the university's Social Innovation Initiative back in 2014. 
Marquette's Social Innovation Initiative "supports students, faculty, staff and community members to effectively solve problems at whatever scale is needed in their community, city, field, industry or country." It serves as an extension to the 707 Hub, which is a space designed to foster collaboration and innovation. 
Beyond the 707 Hub, Hossenlopp said Santos has impacted the Marquette community by serving as a frequent celebrant of Tuesday night Masses, bringing to life Ignatian values through the integration of teaching and research issues and was also an avid soccer and tennis player who always encouraged others to join him. 
"He interacted with many different areas of campus during his time here," Hossenlopp said. "I look forward to having Fr. Santos's voice at the table as the Board of Trustees carries out their fiduciary and governance responsibilities, which are grounded in supporting and enhancing Marquette's mission."
This story was written by Claire Driscol. She can be reached at [email protected]