A Marquette Wire comparison of seven different products from the Sendik's on campus, and various Milwaukee grocery stores found that the store was either comparable to their prices or significantly higher.
The stores evaluated were Cermak, Walmart near Miller Park and the Pick'n Save by Milwaukee School of Engineering's campus. The one product that Sendik's had a much lower price than the other stores was boneless chicken breasts, which was more than a dollar cheaper per pound.
Sendik's did not reply to a request for comment about their pricing.
Alana Pettus, a sophomore in the College of Nursing, signed a lease to live off-campus for the 2017-'18 school year, will have a car, and said she would be willing to travel farther for cheaper groceries.
"As a college student, I'm on a tighter budget, and don't have the money to be spending on overpriced foods if I can get them cheaper elsewhere," Pettus said.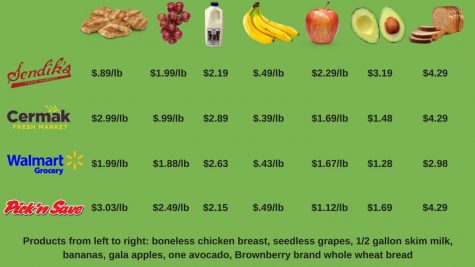 But the store wasn't just built for students. During planning meetings for the new Sendik's Fresh2Go, Avenues West resident and Hunger Task Force executive director Sherrie Tussler said residents have been advocating for a grocery store for a long time.
"All in all, I say it's a much better alternative to an Open Pantry," Tussler said when the store was first announced. "I think the Sendik's store is great for the Marquette campus, but it may not be the solution for anyone west of 27th (street)."
Excluding Sendik's on 16th and Wells Streets, the nearest grocery store is over a mile away from campus. For those without transportation, including Near West Side community members, accessibility could be a problem.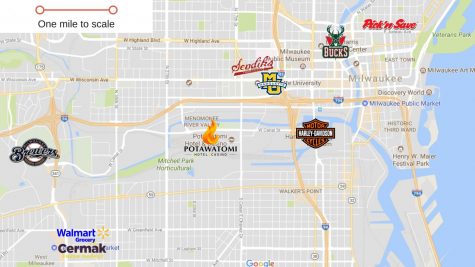 "Even if it's not the answer for everyone, it's still a step in the right direction," Tussler said. "Any store with fresh, healthy food is good news."
David Clark, executive associate dean of the College of Business Administration and economics professor, said he positively views the introduction of any healthy options in an inner-city setting, where they are typically lacking.
"(Sendik's) recognizes the neighborhood in which they're moving into," Clark said. "Sendik's will accept SNAP (Supplemental Nutrition Assistance Program) and other state food-assistance vouchers."
SNAP is commonly known as food stamps.
However, Clark did acknowledge that even if they accept vouchers, shoppers would reach their spending limit faster if the products are more expensive.
When asked if he sees Sendik's lowering prices anytime soon, Clark said it depends on how business goes for a little while first. "Businesses do this all the time… they open a new location, learn the market, learn the clientele and then they adjust," he said.
Clark said he expects the Sendik's campus location to succeed because they are located in a neighborhood of middle-class college students, whose desire for healthy food increases the likelihood of profitability.
"When other (businesses) see the success of Sendik's on campus, that sends a message that this is an undeserved region with a potential for profit," Clark said.
Clark explained that economists tend to favor the existence of competition as good for the market and good for consumers. "(Sendik's) is entering a competition without many other competitors, just convenience stores and some grocery stores farther away."
Clark compared Sendik's to Whole Foods in that Whole Foods was the only store of organic food for a long time, and it was incredibly profitable. Amazon acquired Whole Foods because Whole Foods's growth slowed.
Clark said other stores noticed the demand for healthy and organic products, which forced Whole Foods to lower their prices. "They used to be the only competitor (in their niche market), like Sendik's is now (in the geographic area), but now more players entered the competition, which is good for consumers, and that same thing may happen with Sendik's and the campus area."