Svetnik brings international experience to Marquette
Redshirt first-year middle blocker Anastasija Svetnik started her college volleyball career 1,752 miles from Milwaukee, Wisconsin and over 5,000 miles from her home town of Belarus, Minsk. Playing collegiately wasn't something Svetnik thought about until high school.
"In high school I just started thinking about my future and what I want to do," Svetnik said. "I knew that I want to continue my education after high school and came here as like good opportunity for me to continue my education and play volleyball at the same time."
For Svetnik, Minsk, Belarus was home until college, and is where she spent the offseason when she wasn't competing internationally.
Svetnik is following in the steps of both her parents, who were both athletes. Her mom was a captain for the Belarus National Volleyball Team while her dad played basketball for the national team and earned the title of Master of Sport of the USSR a title given for either being an international or national champion.
The blueprint was set for Svetnik to play volleyball, which she began playing at the age of 12.
At the age of 14, she joined the Belarusian National Volleyball Junior Team, which she is still a part of.
Since coming to Marquette, head coach Ryan Theis said she's brought her culture and has been sharing it with her coaches and teammates.
"She would teach us Russian and how to say nice to meet you, my name is and she should would walk us through these words and then the next day we would pick five people and quiz them," Theis said. "I think it helps a little bit her teaching us, because it's probably been the other away for her a lot in the states."
Svetnik said, even if her teammates weren't getting the phrases correct it was a way to build a relationship with them.
"They know some of these phrases, some phrases are hard, really hard for them, especially (the) longer ones," Svetnik said. "But they tried so hard to learn them."
Prior to Marquette, Svetnik began her career at Oregon State. In her true first-year season last year with the Beavers, Sventik played in every set of every match last season. She complied 85 kills and 45 total blocks across the 69 sets.
Svetnik said the decision to transfer revolved around the unprecedented season due to COVID-19 and her the standing of the Oregon State program.
"It was (a) weird year last year because of COVID mostly and I decided that I want to change something like, a team, the program," Svetnik said. "I thought that I needed a stronger volleyball program."
Last year, Oregon State finished 10th in the Pac-12 while Marquette finished third in the BIG EAST and played in the conference championship game.
Svetnik said the level of success the Golden Eagles had along with Marquette being located in a city with a larger population than Corvallis, Oregon contributed to her decision to transferring to Thesis' program.
"I love (the) coaching staff and Milwaukee is a good, big city." Svetnik said. "I'm from a big city and it was important for me because last year I lived in Corvallis and it was super small."
When Theis saw Svetnik in the transfer portal, he saw someone that could contribute in the future and a chance to add a player with size and years of international experience.
"Her size is something we need in the middle and in the future will be pretty helpful for us," said Theis. "We haven't had a huge ton of success with American kids basically that are 6'4 and bigger lately, so when we saw some size popped up on the portal, we jumped at the opportunity."
Svetnik toured Marquette virtually because she was in Minsk, Belarus. Svetnik had never been too Milwaukee before, and arrived on campus in early August. After arrival she had a few days to get herself acclimated before the team would start practicing.
"We have like eight hours time difference from my home city so it's kind of hard," Svetnik said. "I had a few days then we started preseason practices."
Theis said since the team's first practice, her game and work ethic has shown.
"She's come in for a lesson every week to get individual attention to try and get better," Theis said. "That's kind of who she is. She gets really good grades in really hard classes and wants to be really good at volleyball."
Individual lessons aren't something that are required and yet, Svetnik is there as much as she can be.
"You have to ask for lessons," Theis said. "We try and do middle sessions that are assigned and we do have some time where we say, hey the gym is available who has time and she does it every time because she wants to be good."
With the help of coaches and her willingness to learn, Svetnik said she is still adjusting to some of the changes and differences in the way volleyball is played internationally and how it's played in college.
"For me it is weird that not both middles can serve," Svetnik said. "American volleyball, it has really good defense and it is faster."
Sventik earned her first career point at Marquette Aug. 29 in the Golden Eagles' straight set sweep over Fairfield University with a kill in the third set.
If Svetnik is able to keep getting better, her name may be called more and she could potentially be a bigger part of Marquette's future.
"We see a lot of things that might enable her to be a big part of our future and to do that if you're not a starter right away, you have to want to be good," said Theis.
This story was written by Ben Schultz. He can be reached at [email protected] or on Twitter @benschultz52.
Leave a Comment
About the Contributor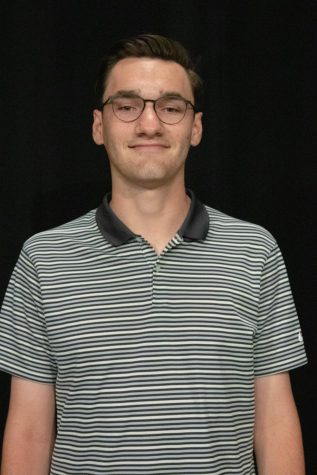 Ben Schultz, Assistant Sports Editor
Ben is an Assistant Sports Editor for Fall 2022 at the Wire. He is a senior from Wauwatosa, WI studying journalism.

In his free time, Ben enjoys golfing.

This...