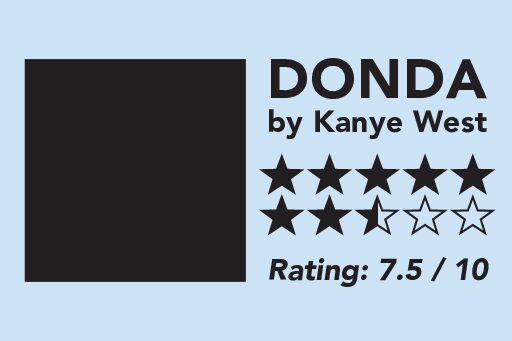 Kanye West has been known to be a very unpredictable person. From his infamous interruption at the MTV Video Music Awards with Taylor Swift, where he said Beyoncé has one of the best music videos of all time, to his run for president in 2020, West has been known as a very interesting figure in hip-hop culture. We've seen that firsthand with the rollout for his new album "Donda". Who else would have multiple listening parties in different cities before releasing their album? Kanye, of course.
This album release came with some controversy. In his third album listening party in Chicago, where he grew up, West brought out rapper DaBaby and singer Marilyn Manson on stage with him. DaBaby has been facing heat for his homophobic statements at this year's Rolling Loud festivals. Meanwhile, Marilyn Manson has recently had numerous sexual assault allegations against him. But none of this seemed to stop the album from releasing. Although, West claimed on his Instagram that his label released "Donda" without his permission, begging questions as to whether this album was the final version.
The project is named after West's late mother, Donda West. And you can tell right away the love and respect Kanye had for his mother, as the first song, "Donda Chant," has his mother's name being chanted throughout the song, showing us how much impact his mom had on him. 

"Donda" has arguably the biggest and hottest artists in the world on one album. Lil Baby, Travis Scott, Jay Z, The Weeknd, Lil Durk, and Playboi Carti are just some of the big-name artists who joined West for his new project. This came as a surprise, considering most Kanye albums typically don't have that many songs or features on them. His last project, "Jesus is King," only had 11 songs with seven of them having features. So this shows how West wanted to make this album different from others.
As for the actual music in the album, "Donda" shows West being more up to date with the new era of rap music. While West manages to keep the religious themes in his music, you can see he is trying to switch things up. "Off the Grid" gives us a song with a New York drill beat with Playboi Carti and Fivio Foreign as featured artists. I found this interesting, as it was one of the first times I heard West on a Drill beat. This shows despite how long he has been in the game, he still is willing to adjust to the new era of rap. Fivio Foreign's verse on "Off the Grid" was also one of my favorite highlights on the album, as he had a longer verse that really showed his true rapping capabilities.
While the album was done well musically, there are still a few flaws. For starters, there is no reason for an album to have nearly 30 songs. Yes, I know it is Kanye West, and he hasn't released an album since 2019, but still it can be hard listening to an album that's over two hours in one sitting. I also felt there were some songs that were too long. There were quite a few songs where the beat is dragging out or there is someone talking in the background as the song fades. Tracks like "Jail" and "God Breathed" showed this early in the album. It's a small thing, but it got rather repetitive and annoying as the album went on. The tracklist order also could have been organized better, just to make it a better listen for first-time listeners. But the order could be due to the fact that Universal released the album rather than West himself.
Was "Donda" worth the year-long wait? Personally, I think the answer is yes. It wasn't really what I expected, considering all the features and songs. But it reminded us of the talent that Kanye West has and how much he cares about his art. He wanted to make this album different from what he has done before, and you can tell he put a lot of effort into it. While I don't think this may be one of his best projects, this is definitely a project to remember.
My favorite songs off the album were "Pure Souls," "Jonah," "Off the Grid" and "No Child Left Behind." These songs had some of my favorite artists featured and overall just stood out to me on "Donda."
Rating: 7.5/10
This story was written by Rashad Alexander. He can be reached at [email protected].
Story continues below advertisement