REVIEW: 64th Grammy Awards was not memorable
Editor's Note: This story contains opinionated statements.
The biggest night in music has officially returned to its regular format for the first time in two years. And while everyone has different feelings toward the Recording Academy, it's still an exciting time to recognize people for their art.
The show started off on a high note, as Silk Sonic performed their song "777" to kick things off. I wish they had performed their most recent song, "Love's Train" just because I don't really listen to "777" that much, but it was nice to see the duo back on the Grammy stage once again.
After that we see Olivia Rodrigo perform her hit song "Drivers License," which won a Grammy for "Best Pop Solo Performance" that night. I have to admit: I never actually sat down and listened to her songs fully. But watching this performance made me feel a little blue, considering the gloomy stage setting. But regardless, the girl's got talent, if her seven nominations didn't convince you! Although seeing her win three Grammys at the age of 19 did make me rethink my life choices for a moment.
But besides those performances and the Lil Nas X performance, there weren't other performances I cared about. Billie Eilish's performance was cool until I saw her walking in water with shoes on, then I got really uncomfortable because why was she doing that?
After that, I didn't care too much about all the other performances or the performances were boring. Brothers Osborne closed out the ceremony, and they just seemed like a random artist to have close out the biggest night in music. It felt like most of the performers were just sitting around and singing and not being super active. I felt like I was watching the same performances for three hours. This is music's biggest night for crying out loud, this is supposed to be a fun time!
Personally, I don't think a Grammy defines an artist, so it doesn't really matter who wins. It only mattered to me tonight though when I saw my favorite rapper NBA Youngboy was up for the "Best Melodic Rap Performance" for his feature on "WusYaName" with Tyler, The Creator. Youngboy's one of my favorite rappers and seeing him win a Grammy after being in jail and his constant battles with the music industry would have brought a great smile to my face.
Sadly, I didn't get that great smile, because the Grammy went to Kanye West, Lil Baby, and The Weeknd for their song "Hurricane." How The Weeknd won a Grammy after calling them corrupt is beyond me, but who am I to say? Although, Tyler would go on to win "Best Rap Album" for "Call Me if You Get Lost." Youngboy was featured on a Grammy winning album, so that's close enough of a win for me.
Kanye won two Grammys, despite being banned after his Instagram rants. His two wins tied him with Jay-Z for the most Grammy wins by a rapper with 24.
More history was made during the night as Jon Batiste won the prestigious "Album of the Year" award for "We Are." He became the first Black artist to win the award since Herbie Hancock in 2008. It's unfathomable to think it has been 14 years since a Black artist has won the award considering all the great art we've been given since that time, like Kendrick Lamar's "To Pimp a Butterfly" and Lil Wayne's "Tha Carter III." But kudos to Batiste, who garnered five Grammys in one night Sunday.
Bruno Mars also achieved a milestone as he becomes the first artist to win the "Record of the Year" honor three times. As one half of Silk Sonic, the duo won all four nominations for their hit song "Leave the Door Open."
"In the industry, we call that a clean sweep," Anderson Paak said in their acceptance speech.
One of my favorite moments of the night was Baby Keem winning "Best Rap Performance" for his song "Family Ties," which featured his cousin Kendrick Lamar. He looked a little nervous during his speech, but it was a welcome sight to see the young rapper get his moment. Coincidentally, Keem performed in Milwaukee the Friday before the Grammys. Maybe the presence of Marquette students at his show gave him good luck at the awards.
Another highlight for me was Doja Cat and SZA win "Best Pop Duo/Group Performance" for their song, "Kiss Me More." When I tell y'all, this song had me hooked in the summer of 2021. I sing SZA's verse like I wrote it myself. Their acceptance speech was funny considering Doja Cat said she was in the bathroom and had to rush back to accept the award.
This year's Grammy Awards ceremony wasn't the most exciting to watch. While it was cool seeing young artists like Baby Keem and Olivia Rodrigo win their first awards, there wasn't really anything worth remembering at this year's awards show.
This story was written by Rashad Alexander. He can be reached at [email protected]
Leave a Comment
About the Contributor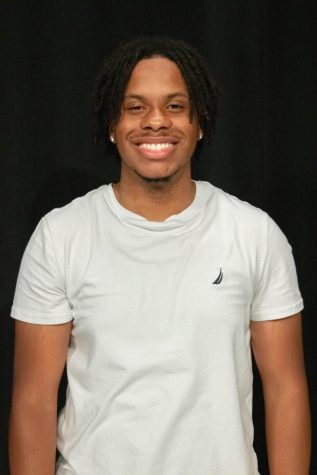 Rashad Alexander, Music Director
Rashad is the music director for MUR at the Wire. He is a senior from Chicago, IL studying journalism and minoring in writing intensive English.

In...