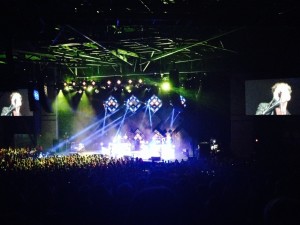 Just two weeks ago, Milwaukee was anxiously waiting for the world's largest music festival to start. Now, after dozens of musical acts from every genre performed for hundreds of spectators, Summerfest 2014 is over. Missing the sights and sounds from the best 11 days of the year? Relive the festival's best moments with A&E's Summerfest recap.
Best Show: This year's Marcus Ampitheater headliners were memorable to say the least: Mötley Crüe's final tour, Outkast's reunion and a surprisingly disappointing Lady Gaga. But Bruno Mars brought the energy, charisma and sound to start Summerfest off on the right note. His sold-out show never had a dull moment between numerous hit singles, emotional ballads (he called "If I Was Your Man" his hardest song to write and sing) and lively choreographed dance numbers with his band. Bruno is more than a talented musician; he is an engaging, crowd-pleasing performer. Future audiences should spare no expense to see him as close to the stage as possible.
Other ampitheater headliners included Brad Paisley, Luke Bryan, OneRepublic, Dave Matthews Band, Zac Brown Band, Fall Out Boy & Paramore and Usher.
Hidden Gem: Typically, the musicians playing the small side stages lining the lakefront simply provide entertaining background music for walks in between main stage shows. Not Dan Rodriguez. This Johnny Depp-Russell Brand doppleganger from Minneapolis knows how to stop passers-by with a bluesy sound and hilarious lyrics. Case in point: "Downtown Girls," which cleverly says, "You can't even hear the laughs as you're stumbling down the street/ Because your ears are closed and you've got nothing in between." And don't even get me started on "The Douche Bag Song."
Craziest fans: The masses seeing Lady Gaga would normally take this title without question. However, a particularly creative woman decided to bring a fake owl on a retractable pole to see Fitz and the Tantrums July 4. It was certainly dressed for the holiday with its red, white and blue lei and American flag in its mouth, yet one couldn't help but ponder its purpose and whether it had relatives also on poles in an undisclosed aviary.
Best Text Message: Aside from providing good music, the U.S. Cellular stage is known for its message board for texts and tweets from audience members. On any given day, the notes will alternate between shout-outs to friends and wedding proposals. But one apparently concerned individual used the board for more practical purposes​, texting, "Nancy, where are you? :("
Most Anticipated Event: While music takes center stage every year, Summerfest fans always look forward to the vibrant Big Bang Fireworks opening night. Unfortunately, the spectacle was rescheduled twice due to fog on the lakefront before finally taking place July 1. It may not have been the show that sold the most tickets, but it did get people talking, for better or worse.
Side Stage Highlights:
June 25: Arctic Monkeys, Neon Trees, Rick Springfield
June 26: Scotty McCreery, B.o.B., Pentatonix
June 27: Third Eye Blind, Atmosphere, Tegan and Sara, ZZ Ward
June 28: A Great Big World, Moon Taxi, Girl Talk, Kongos
June 29: O.A.R., The Neighbourhood, Umphrey's McGee
July 1: Kip Moore, Eddie Butts Band, Los Lonely Boys, Switchfoot
July 2: Joan Jett & The Blackhearts, Jake Miller, Ludacris
July 3: New Order, Rise Against, The Fray, Blackberry Smoke
July 4: Kool and the Gang, Timeflies, Fitz and the Tantrums
July 5: Thompson Square, Ingrid Michaelson, The Crystal Method
July 6: Cheap Trick, The Fatty Acids, Melissa Etheridge