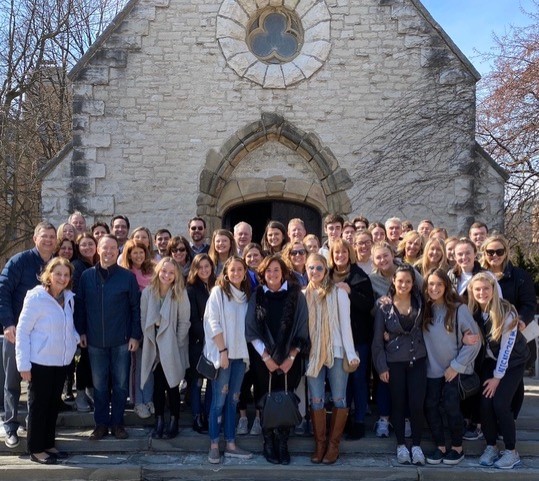 Katie Barthel was certain she was going to get kicked out of college before her first day had even started. 
After sneaking into a party on the 11th floor of McCormick Hall, she had to find a way to get herself out unnoticed and back to O'Donnell Hall, where she and friends lived at the time. 
This is when Katie met Pat "Fuzzy" Parks, another first-year with a head full of frizzy hair, hence the nickname. Pat assured her that everything was going to be alright and that he would get her out unnoticed. By the end of the night, Katie was able to sneak by, all thanks to the kindness of someone who was, at the time, just a stranger.
Shortly thereafter, Katie and Pat started dating. Over the next four years, the two shared inseparable bonds with fellow roommates and friends from high school who also attended Marquette. 
"Everything good in my life came from that and this circle of friends," Katie says.
Katie and Pat would later get married in May of 1993, only a few years after they both graduated in 1989.
After their first year, Pat and five other guys, including his best friend and roommate from McCormick Marc "Rogie" Vachon, had drawn bad lottery numbers in the sophomore housing selection process. Together, they petitioned the university to allow them as sophomores to live off-campus in a house. It worked, and the six friends lived in a house west of campus on 23rd and Wells St. 
"We were far away, but we were happy," Vachon says. "But our little group of six … became like our own little fraternity." 
Vachon and company lived in their isolated home away from campus and created a sort of brotherhood. There would be days the group would sit around a cable television for hours on end. 
During their last year, another senior at the time, Jimmy Halling, introduced them to another group of guys who would eventually be a part of this group of friends. He went to high school in Michigan with Marc, so the two had a connection. Eventually, Jimmy became the catalyst that made one large group out of two, Vachon says.
After graduation, the group split up across the United States. Marc and Jimmy then moved to Baltimore, where they were roommates yet again.
Tragically, Jimmy died in a car accident on Sept. 14, 1990, just one year after his graduation. He and Marc were roommates for just three days in their Baltimore apartment.
The group of friends met at Jimmy's funeral, a reunion none of them imagined.
"Jimmy was a hilarious, boisterous, know-it-all who brought joy everywhere he went," Katie says. "The impact on all of our lives was indescribable."
At the funeral, there was a plan to honor Jimmy's memory. Pat, along with Jimmy's brother Tommy, helped plan an annual golf outing and dinner to honor the legacy Jimmy left on all of their lives. Funds raised at the outing went towards the Marquette men's basketball team. It eventually led to a scholarship that one player receives every year, the most recent being senior forward Jamal Cain.
The weekend leading up to the golf outing would be preceded by a party "of epic proportions" Katie says. The extravaganza, called "Fuzzfest," would typically be hosted in the Parks' home the day before the golf weekend. There was even a bounce house and a DJ one year. 
"The weekend continued to find all of us pretending we were in college again," Katie says.
But in 2010, tragedy struck again for this group of alumni.
Pat hurt himself playing squash and required surgery. It was around this time that doctors discovered Pat had developed cancer cells in the fluid lining of his lungs. Pat was diagnosed with cancer on July 16. He died a month later on Aug. 12, right after that year's golf outing, leaving heartbroken friends and family, especially Katie and their two daughters.
"If I had to make that choice, that night to sneak into (McCormick) …. and that I was only going to have 28 years with this guy would I still do it? Of course," she says.
Pat's tragic death had left a hole in Katie's heart and those of their family, but her strong group of friends from Marquette was what kept her moving on in spite of such horrible events.
"This amount of loss this group of people has endured … over the 30 years since we've graduated is unreal," Katie says. "For this group to have a faith that is so strong … this group of friends that we've created at Marquette has given us the strength to face anything that comes our way."
After Pat's death, Katie, with help from her friends, rented a suite at the Bradley Center for a Marquette basketball game to celebrate Pat's life and their family's love for the team. She has continued to do it every year since, now at Fiserv Forum. Friends from college fly across the country to take breaks from their lives to honor people they fell in love with at Marquette. They often make a weekend out of it, called "Fuzzy's Weekend."
Tim Tarpey, Pat's lifelong friend and alum says that it's family, faith, and friends that keep this group together.
"It's what we established at Marquette … it's as simple as that. It's not profound, it's not easy, but it's simple in that these three things are the foundations of our lives," Tarpey says. 
This year would have been the 30th annual golf outing in Jimmy's honor, but due to COVID-19, plans had to be shifted. The group was able to send a video to "Nana Joyce," Jimmy's Mom, featuring a multitude of people whose lives have been touched by an inspirational story.
"The best gift we can give the legacies of these incredible men that we've lost is to continue moving forward to make them proud, that's how we choose to live our lives," Katie says. "Wake up, and hit the ground running."
This story was written by Benjamin Wells. He can be reached at [email protected].