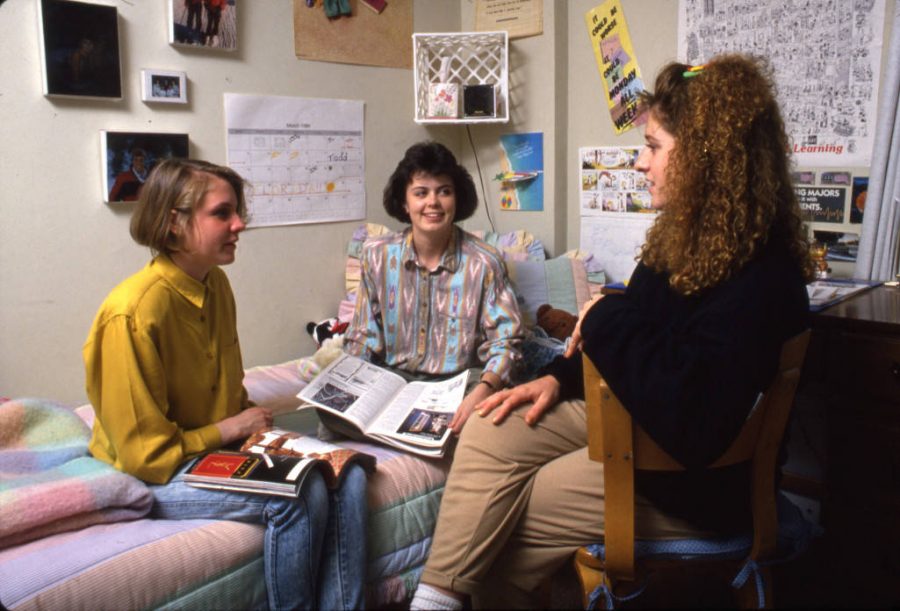 Campus Living
October 14, 2020
Kathy Obert, a Marquette 1984 graduate, believes living on campus, whether in a residence hall or an apartment, is worthwhile.
"You miss the stuff that happens at night," Obert says about living off campus. "Just the interactions of being at the common area, or being in the library studying late at night, or going to the union."
She lived on campus for two years at Marquette, before renting apartments off-campus with friends for three years as an upperclassman. Obert's upperclassman years were split between studying in Milwaukee and taking part in a cooperative education program in Washington D.C. 
Her first year at Marquette in 1979 was spent in the YMCA, or what is now known as Straz Tower. While Obert lived there, only the top seven floors were designated for Marquette students, and students living there were given a key that granted them special access to the top floors. The rest were used by the YMCA. 
When Obert lived in Straz, she stayed in a single-person room. She says this made her eager to experience more social interactions. Fortunately for her, many of her floormates found themselves in the same boat.
"It meant that we were all leaving our doors open and trying to hang out more in common spaces," Obert says. "Nobody wanted to be in their room alone."
Obert remembers spending a lot of time in the common area playing Uno with her floormates.
In terms of campus living, Obert's sophomore year was a bit different than her first year in Straz.
Nowadays, all first-year students and sophomores are required to live in a residence hall during the school year, except for a few exceptions. For example, commuters can opt out of living in the dorms. Additionally, due to COVID-19 safety protocols, sophomores can opt out of living in the residence halls for the 2020-2021 school year. 
Things were different when Obert attended Marquette. First-year students and sophomores were not required to live in the dorms, though it was highly recommended that they did. 
Nonetheless, Obert decided to stick with the dorms, along with many other sophomores, although it left them with limited options.
"There's only so many dorms. Even in sophomore year, there was a lottery to get the dorms, so it was tough," Obert says. "That's how I ended up in a triple, because that's how the lottery worked."
Obert was placed in Carpenter Tower her sophomore year.
"I always thought that (Carpenter) Tower was the cool one," Obert says. She says it was particularly cool because it was co-ed, while many others like Cobeen Hall and McCormick Hall were not. Cobeen Hall switched from all-female to co-ed this year. McCormick Hall, once an all-male dorm, made the transition in 1990.
In both of the dorms she stayed in, Obert says she remembers very little of her resident assistants, saying they played fairly inactive roles in her college life.
"I don't remember anybody lecturing me, or telling me to do something, or even giving me advice. It was very hands off." She remembers them less as RAs and more as casual friends.
After staying in the dorms for two years, Obert moved around from one off-campus apartment to the next, one located as far as the east side near UW-Milwaukee as well as one as close to campus as 17th St. 
Colleen Wronski, a Marquette 1991 graduate, was far less of a nomad. While studying for her bachelor's degree, she stayed in only two different places.
Both Wronksi's first year and sophomore year were spent in a quad in Cobeen, which she says suited her just fine and for good reason: Unlike all the other rooms in Cobeen, the quads included private bathrooms.
"I remember it being a big deal to pick a dorm that had its own bathroom. Because I didn't see sharing a bathroom with a ton of people, so that was nice," Wronski says.
While living in Cobeen her first year, Wronski made a lot of meaningful friendships.
She remembers bonding with people on her floor and the floor above hers, particularly over the soap operas that were played in the common area every day.
"There would be a ton of people sitting around watching them. I had never watched soap operas before then," Wronski says.
She says students would rush back after classes to catch the noon showing of "All in the Family" and the 1 p.m. showing of "Days of Our Lives."
As an upperclassmen, Wronski lived in Strack II, an apartment complex on Kilbourn Ave. She says it was no five-star hotel.
"It was kinda dumpy. We were on the first floor so we had bars on our wall."
She did, however, love the newfound freedom that came with getting an apartment.
"There was a lot more coming and going that there would have been at Cobeen," Wronski says. "It was pretty strict about who you could bring up and what time you could bring people up and that kind of thing."
Wronski says the only downside to living on campus was the dining hall food.
"The food was awful," she says. "That was probably the worst of campus living."
Unlike Obert and Wronski, Christopher Altruda, a Marquette 1994 graduate, chose to live in the residence halls for all four years at Marquette.
His first year he lived McCormick Hall, which was also known as "the beer can."
He says McCormick was his favorite place to live because of how busy and social it was. He lived on an all-male floor with about 70 other students. There was always something going on.
"I am partial for McCormick because it was so loud," Altruda says. "Looking back on it, I think McCormick was probably the most fun."
He recalls that a running gag among residents was that the elevators in McCormick were often out of order.
"Invariably, one of the three elevators was always out," Altruda says.
Altruda's sophomore and junior years were spent in Straz Tower, at the time known by students as East Hall. The building itself was still owned and used by the YMCA, and Altruda remembers playing pick-up basketball with some of the adults staying there.
Despite outside ownership of the building, Straz Tower was still considered an on-campus dorm. In the years since Obert lived there her first year, Marquette's presence in the building grew considerably. Whereas students used to occupy only the top floors of the building, by the time Altruda moved in, floors 3-18 were home to Marquette students.
In 1993, the year immediately after Altruda moved out of Straz, Marquette purchased the building.
Straz was especially convenient to Altruda for a few reasons.
"One of the things I liked about East was having a single and a bathroom. And also it was the only dorm at that point that had cable," Altruda says. "I also had a girlfriend at that point who lived a floor above me, so that was also convenient."
Compared to McCormick, Straz was much quieter. Altruda says with no more than 30 people on the floor, he was able to get to know his floormates a little better.
As a senior, Altruda lived in Humphrey Hall, which he says was a big step into adulthood for him, particularly because the kitchens in Humphrey allowed him to cook for himself for the first time. Altruda remembers he did not have the best cooking skills at the time.
Though McCormick was where he had the most fun, Altruda says he remembers almost only positive experiences while living on campus. 
The same can be said for Obert and Wronski, both of whom say they enjoyed the opportunity to feel closely involved with the Marquette community by living on campus.
"People pretty much stayed on campus," Wronski says. "There were a lot of fun places to go on campus that aren't really there anymore. Campus has changed dramatically."
The way some Marquette alumni remember it, a campus that is home to thousands of people still felt like a close-knit community.
"It felt like a small campus," Wronski says. "You felt like you knew everybody."
This story was written by Charlotte Ives. She can be reached at [email protected]