Pumpkin Spice Latte returns before September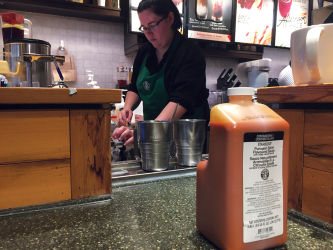 Since its introduction in 2003, Starbucks' Pumpkin Spice Latte has, for many, embodied the start of fall.
Yet earlier this month, rumors floated around the internet that the coffee chain's iconic fall drink would be arriving as early as Aug. 28 — nearly a month before the official first day of autumn.
The date was confirmed by Starbucks on Aug. 21, along with an announcement from competitor Dunkin' Donuts that it would release its fall coffee and bakery flavors Aug. 27, a full day before Starbucks' PSL.
Social media users quickly filled the internet with both critical thoughts and excitement. Vanessa Klein, a sophomore in the College of Health Sciences, said she is a member of the former group.
"It just seems like things are getting pushed earlier and earlier every year," Klein said. "The other day I was in Walmart and saw Halloween candy out … I don't know if I necessarily agree with the marketing."
Typically a once-a-week Starbucks customer, Klein said she prefers a vanilla latte to the seasonal pumpkin variety. Still, she said she usually ends up purchasing a PSL at least once every fall in the spirit of the season.
Even Rachel Pogodzinski, a sophomore in the College of Education and Starbucks regular who said she adores the PSL, agreed that it's too early for pumpkin drinks to be appearing in stores.
"I love (the PSL), personally, because I like fall … I like that it inspired a movement. Like everything is pumpkin spice now," Pogodzinski said. "But I like it so much because it's a seasonal thing … and it's still summer, you know?"
While Pogodzinski and Klein said they would prefer to see PSLs and similar flavors return in the middle of September, not everyone thinks a late August release is too early.
Starbucks employee Meghan Hamilton revealed that the pumpkin spice syrup arrived at the location at West Wisconsin Avenue and 16th Street where she works as a barista in mid-August and said she felt the August release was a good idea considering the well-loved nature of the drink. Hamilton said she was surprised the store did not get more customers asking about the seasonal lattes this month.
"It's a pretty popular drink," Hamilton said. "We usually keep it out pretty long just because everyone really likes it, and we even order extra syrup so we can carry it out longer."
Although this year's return of the PSL prior to September evoked strong feelings from many, Anthony Hyatt, the store manager of the aforementioned Starbucks location, said the fall flavors actually became available for customers around this time in past years.
However, according to Business Insider, it was only "select customers" aware of the drink's early release who could get their hands on it in August in past years. Yet this year, with open advertising, Starbucks will mark its first year of the PSL's official release before Sept. 1.
While Milwaukee heat waves and the start to classes may make fall seem weeks away, to companies like Starbucks and Dunkin', the season is right around the corner. And whether one chooses to enjoy a PSL before temperatures and leaves start to fall, the drinks are here to stay — at least for the season.
Leave a Comment
About the Contributor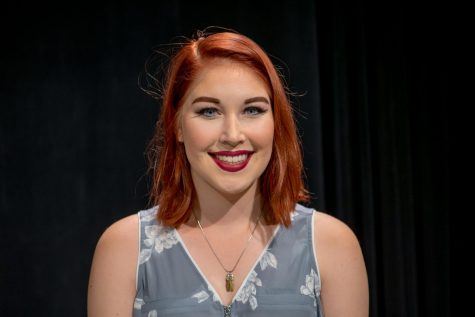 Kendra Bell
Kendra Bell is a copy editor and former entertainment producer for the Marquette Wire. She is a senior from Cary, Illinois, majoring in digital media....