Women's soccer shut out against Wisconsin, yet to score in 2018
Hang on for a minute...we're trying to find some more stories you might like.
Normally conceding only one goal in the first 200 minutes of the season would be enough to carry a team.
But for junior goalkeeper Maddy Henry and Marquette women's soccer, it has resulted in a 0-1-1 start to the season after a 2-0 loss to in-state foe Wisconsin.
"We're not happy with the result," Roeders said. "It was very much an incomplete effort all around … There are bits and pieces, but it's really not coming together for us yet."
After four first-half saves, Henry could only hold back Wisconsin's ferocious defense for so long. Clinical passes from Wisconsin forwards Cameron Murtha and Lauren Rice in the 49th minute set up teammate Emily Borgmann, who fired a shot off the right post and into the net from 12 yards out.
The Badgers struck again. Rice fired the contested shot from the left flank on a corner kick
"I thought we were going to have a little bit stronger effort right at the beginning of the second half, but obviously that backfired," Roeders said. "Then the set play off the corner, before you know it, it's bang-bang."
"Any time that you have a set play situation, you have to do better," Roeders added.
Redshirt freshman, Rachel Johnson had to be carried off the field in the second half, but Roeders said he doesn't "picture her being out more than a couple days or so."
Wisconsin dominated possession from the opening touch, giving Marquette hardly any opportunities to score. The Badgers finished the first half with a 6-1 shot advantage, and the Golden Eagles had just two shots in the first 70 minutes.
"We were able to do some stuff playing out of the back today, but we really didn't get our midfield involved," Roeders said. "And then it eliminated our front line a little bit. They had to deal with a lot longer balls, and then we didn't get those."
Three days after Cal Poly outshot Marquette 17-15, Wisconsin outshot Marquette 16-5. Only six of Marquette's 20 combined shots were on goal.
"Winning is about scoring goals, and we have to be better at that," Roeders said. "We didn't create enough chances."
The team's 0-1-1 record is the second worst two-game start in the last 19 seasons. The only worse season was 2016, which resulted in a BIG EAST regular season title.
"We're far away from where we want to be or need to be," Roeders said. "We might have to be more scrappy and be a little more ugly … It's probably going to be a little bit up and down before get some positive steps forward."
Roeders' road won't get much easier. The Golden Eagles will visit Michigan Thursday before returning home Sunday to take on UW-Milwaukee.
"We have work to do and not a whole lot of time to do it," Roeders said.

About the Writer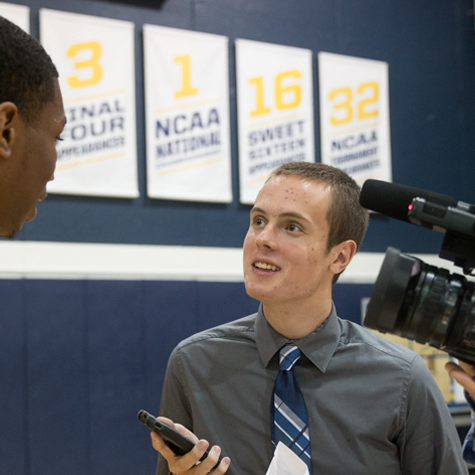 John Steppe, Executive Sports Editor
John Steppe is the executive sports editor for the Marquette Wire. He is a junior majoring in journalism and double-minoring in digital media and Spanish....