Style Sunday: Kathleen Rock on thrift shopping, DIY
Unlike most five-year-olds, Kathleen Rock wouldn't be seen exploring the vast isles of a toy store. Instead, she remembers her grandmother treating her and her sisters to a day touring thrift shops.
"It just became cool, but we always did it," Rock said.  She would search the racks and shelves for "costume clothes or funky earrings." Perhaps it was this early influence that helped Rock become such a fashion-forward adult.
Rock is junior at Marquette University studying Theatre Arts with an emphasis in Costume Design and works in the department's design studio. Do it yourself (DIY) fashion and thrift store shopping are things she grew up with and continue to do to this day.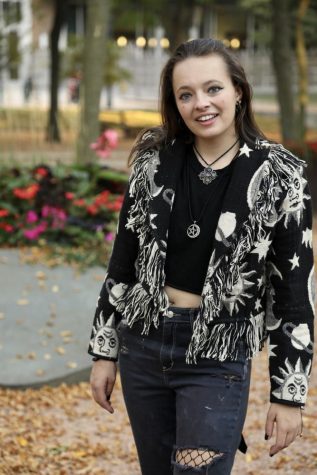 Rock's tailored aesthetic certainly speaks volumes about her as an individual. She is creative in every aspect of her life, and as vibrant and bold as the patterns she wears.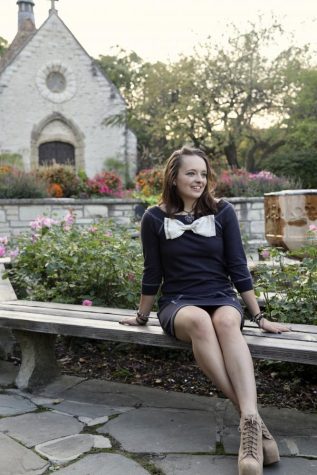 In her first look, Rock can be seen wearing a monochromatic shag jacket purchased from a New York re-sale store.
"When I saw it, I knew I was never going to find anything like it again," Rock said.
These one of a kind pieces are the pillars of her wardrobe in which she can curate her other items.
The jeans pictured are one of Rock's personal creations. When she purchased the pants they were a simple light wash, and fully intact. However, with a bucket of black dye and a pair of scissors, Rock was able to give these simple jeans a whole new look and life.
In her second look, Rock's off-the-shoulder sweater dress has also been personalized and altered. Like her jeans, Rock dyed the dress a darker shade of grey and chose to add a coy bow. She said that she often wants to hand dye items; however, actively avoids polyester products when considering alterations, as she claims they rarely take to the dying methods and products.
Kathleen will admit that the shoes for this date-night look are not found in thrift stores or her own creation.
"Shoes are the one thing I will spend a lot of money on," she said. "I think they are like little statues."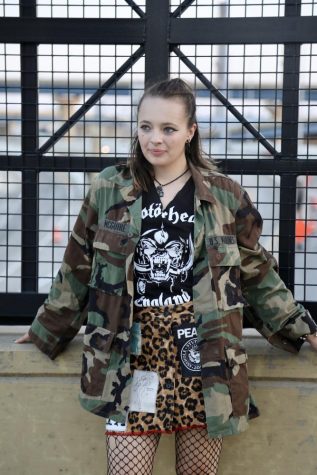 In her third outfit, Rock is pictured wearing a camo jacket, purchased just down the street at the army surplus store.
"I picked the McGuire jacket on purpose…I have to rep Marquette," Rock said.
Rock also added all the details seen to a leopard print skirt, a piece she describes as one of her favorites. The skirt was inspired by a pair of leopard print pants worn by Rancid member Lars Frederiksen.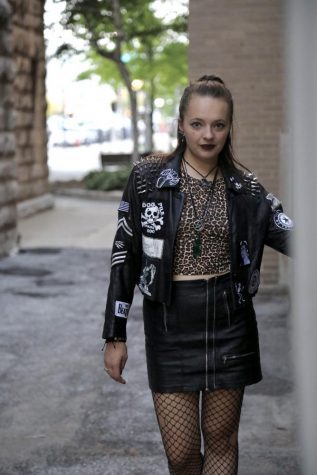 Rock's last and final outfit consists of a leather jacket, more commonly, and ironically, referred to as "her child." The jacket was a gift from her grandfather. After years of additions and investments, it is no longer the plain black jacket it once was. Each patch and pin was curated to fit on Rock's masterpiece. Once again, Rock's signature fishnets are on display in this look, alongside even more leather, this time in the form of Rock's miniskirt. Finally, the cherry-on-top: a dark red lip.   
Despite how intimidating it may seem, Rock believes that anyone can take a more hands-on approach to their own fashion.
"It has become such a cool thing now to DIY everything. It has become so trendy," Rock said. "Definitely look up how people are doing these things."
Photos by Helen Dudley.

Leave a Comment