DESUTTER: All-nighter McCormick style
When McCormick wheeled out plans to keep its dining hall open 24 hours a day, it was overwhelmingly met with positive reactions. Finally, students could have access to university-provided meals in a safe location and not have to trek to Qdoba, Jimmy John's or The Dogg Haus in the wee hours of the morning.
I decided to spend the night in the dining hall observing, note-taking, and video blogging my hour-by-hour experience from midnight to 8 a.m. The only rule: I can't leave the dining hall for any reason until the sun comes up.
12:00 a.m.: My first impression, it's incredibly busy. From there, I headed straight for the main food line, and encountered a 10-minute wait for the night's specialty — spaghetti and meatballs with a side of corn and rice.
12:11 a.m.: When I get up to the front of the line, I asked one of the employees what he thinks of the new 24-hour schedule. "More work means more money," he said. "So I'm fine with it."
12:15 a.m.: After unsurprisingly opting out of the sides, I sat down with my spaghetti. I'll be honest, I came in with low expectations, but I was pleasantly surprised with the quality of the food. Despite the meatballs being a bit bland and rubbery, it was definitely palatable. They were also constantly churning out pizza, burgers and sandwiches, and had a massive amount of cereal and ice cream on hand.
12:20 a.m.:  Slurping down my final noodle, a harrowing thought rushed into my mind: What if I have to go to the bathroom? Realizing that the only way to use the bathroom was to go to the lobby, thereby breaking the rules of the challenge, I swore off all liquids for the night. No water, soda or milk. Traditionally, I have a pretty strong bladder, and I went before I came, so I'm not too worried, but I want to be careful not to sabotage myself.
12:25 a.m.: Shenanigans already started. There was a dude with a bucket hat and Hawaiian shirt swinging around a pool noodle, another guy double fisting two 8-inch tall ice cream cones while loudly shouting, "Double fist!" For way too long, and a girl attempting to carry an overflowing bowl of cereal but spilling gobs of milk on the floor with every step.
12:30 a.m.: Students started attacking the ice cream machine. The poor thing was trying to provide vanilla, strawberry and delicious swirled treats as fast as it possibly could, but its attempts proved fruitless as it was verbally and physically berated for pouring too slow. In response, double fist guy said, "That's why you double fist." Nobody acknowledged him.
12:35 a.m.: A large clang is heard from the other side of the dining hall. A girl trying to find the proper utensils for her spaghetti accidentally knocked an entire rack of silverware all over the floor. However, the reaction to her mistake was overwhelmingly positive as the entire dining hall erupted into a thunderous applause as a group of students aided the clean-up process.
12:41 a.m.: The guy with the pool noodle starts bragging about some party he's going to after this, and he keeps insisting that he feels great and how he's, like, so ready to party.
1:11 a.m.: The initial crowd starts to thin. There's still plenty of people on the sides, but the middle of the dining hall is pretty cleared out.
1:12 a.m.: An excited student decked out in a Hawaiian shirt ran into the dining hall, raised his hands over his head while shouting, "OH!" Dabbed seven times in a row, sprinted toward a table filled with his friends, and clapped one guy's hand four times in a row while screaming "ya" each time. He sat down, bragged about Kansas City for while, stood up, dabbed, and screamed, "Saturdays are for the boys," he said. One person informed him it was Sunday. His response, similar to (but more profane) than Nicki Minaj's classic saying, "eating that booty like groceries," became his catch phrase for the night.
1:15 a.m.: After appearing to settle down, the dabbing guy got riled up again. This time, his target is the moon. He called it a worthless rock and said, "The government can, will and should blow up the moon." Then, he screamed, "OH!" Dabbed again, stood up, and announced he was going to get tacos. Sadly, there would be no tacos.
1:20 a.m.: The first make-out session of the night, and honestly, one of the grossest I've ever seen. They were awkwardly wrapped around the table, and the guy clearly had no idea what to do with his hands since he was clawing at the air. There was plenty of slobber, but it didn't last long because one of her friends broke it up. The weirdest thing was their too-polite goodbye. She said, "Goodbye Jack," as he happily promenaded towards the ice cream machine. She began having a casual conversation with her friends over a glass of water.
1:30 a.m.: A rush of people suddenly appeared at the door. It's maybe 30 or 40 people who arrived in bunches. Most of the people were in beach-themed clothes, so I think a party must've ended.
1:35  a.m.: The ice cream machine finally met its limit. There was a soupy strawberry puddle sitting on the floor with a few broken, floating pieces of cone. Each student that walked in and saw the mess was thoroughly disappointed.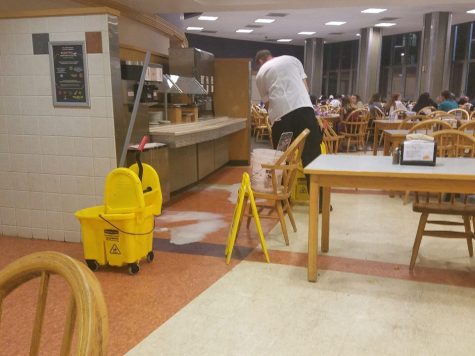 1:40 a.m.: A girl walked in wearing a bathrobe. Props to her. You do you.
1:44 a.m.: A girl spilled a cup of water all over the floor. Apparently, the new crowd wasn't as positive, because she was met with a chorus of boos on her trip out of the dining hall.
1:49 a.m.: Two dudes in a large group decided to play odds on whether one of them will drink the melted ice cream on the floor. The both shout "four" and the dining hall lost its collective mind. The guy who lost got up, fetched a cup, scooped up a large puddle of strawberry-vanilla mush and chugs the whole thing in under two seconds. Everyone cheered for him.
1:54 a.m.: A Sodexo worker walked in with two Department of Public Safety officers who escorted out the entire table full of people. Everyone who was behind the ice cream guy suddenly turned their back on him. A lot of them passed by the cops and said, "Ew, that's gross," or, "I can't believe he would do something like that."

1:56 a.m.: The dining hall was a mess. Each cereal dispenser had a mound sitting underneath it, completely putting the station out of commission. Also, I couldn't find a table that wasn't stained with spaghetti sauce and noodles.
2:00 a.m.: Another thirty people charged in, this time nicely dressed. Looked like a frat party. They all complained about how filthy it was. I didn't blame them.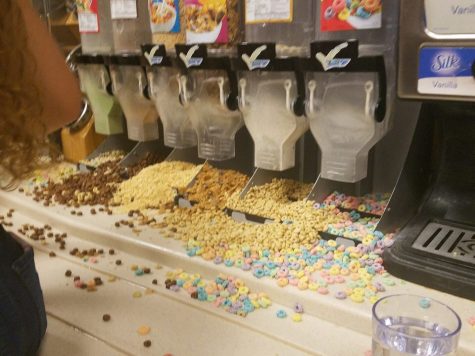 2:10 a.m.: The lady swiping students in at the front came over to clean the tables. She looked up with a sigh and said, "I'm never doing this again. This is my last day."
2:30 a.m.: The crowd thinned out considerably after the big group left. There were probably about 30 people in there. About 40 less than the rush an hour earlier.
2:42 a.m.: The only big group still there, about 12 people, started a sing-along. The whole hall got into it, including some of the staff.
3:00 a.m.: I finally decided to move tables, mainly because my laptop was losing battery power. I walked around until I found an outlet in the back corner. I grabbed a few bananas to tide me over. The tired wasn't really hitting, but I was extremely cold. They must've had the AC turned up because even after I moved away from the draft door, I could not get warm. I stuffed my arms into my dress shirt, but that didn't really help.
3:20 a.m.: A dance party near the forks and knives started. It's the same group that was singing.
3:45 a.m.: A group of three ravenously hungry guys walked in. They started consuming cereal in plastic cups because all the bowls were gone, then demanded burgers from the grill. Grill guy was a champ because he just fired up the grill and fryer on the spot, no questions asked. 
3:55 a.m.: The staff put a fresh batch of waffle mix and syrup in. The group of three dudes went for it right away, and filled both waffle irons within three minutes.
4:00 a.m.: Still freezing, the inability to go to the bathroom finally started to hit me. Now things are piling on. The good news: I was halfway done, I wasn't not really tired and I was pretty positive I could make it.
4:21 a.m.: The group thinned down to me and the garbage disposal group, but apparently, they had finally been satiated. They cleaned up their 15 plates and headed out. I was alone for the first time.
4:30 a.m.: The silence was broken. Two dudes emerged from the shadows. One of them was wearing a sleeveless leopard print suit jacket with a leopard tie. No shirt underneath it. He also had a large drawn-on tattoo of some sort of big cat. I wasn't sure if it was a lion, tiger, cheetah, etc. They just walked in without getting their cards swiped. Well, at least they tried to. The desk lady, credit to her, was committed to swiping them. The machine wasn't working, so instead, she wrote down their numbers.
4:50 a.m.: I was alone again.
5:00 a.m.: I am freezing cold. And I constantly needed to bounce my legs up and down to stay warm. I actually couldn't believe how cold it was. How do people live like this? I would've killed for a blanket. Maybe I could stand near the grill.
5:03 a.m.: I was saved again. Two girls walked in and headed for the drink machine. At first, I thought that's all they would do, but they made their way toward the normal dining hall and both made waffles.
5:29 a.m.: The girls left, and I was alone again.
5:51 a.m.: I think I fell asleep watching a YouTube video (my only way of surviving since 3 a.m.), and I thought I saw an entire soccer team sitting in front of me. They weren't people, they were chairs. I was getting pretty hazy.
6:00 a.m.: The constant waffle smell finally got to me, so I got up to make one. Pretty solid, well-browned, and heavy on the syrup. I needed the sugar rush. Also, standing next to the waffle iron warmed me up.
6:07 a.m.: One of the employees just asked me why there was no ice in the machine. I think I work here now. 
6:10 a.m.: With the waffle out of the way, and no other people in sight, I was watching a video about how cranes are made to desperately try to stay awake. I learned nothing. In fact, it probably made me more tired. I did enjoy the visual of cranes, though. It seemed like a complicated process. 
7:00 a.m.: I woke up in a blurry haze. I definitely fell asleep around 6:30 a.m. or before. There was a pile of drool on my dress pants. One of the McCormick employees asked if I was alright. I said yes. It was a lie.
7:05 a.m.: I gave up. Still freezing cold and needing to pee, I packed up my things and headed back to Johnston Hall. I was completely miserable, but I still had three hours of work for the Marquette Wire left to go.
11:30 a.m.: I finally went to bed.
McCormick should not be open past 2 a.m. Hardly anyone was there, and it just stressed out the staff for no good reason. The only redeeming parts: It's a good place to hang out for underclassmen who are in different dining halls, and it provides a safe, affordable environment for students to get meals late at night. But mainly, it's a breeding ground for dumb antics at 2 a.m.