GOLDSTEIN: Was this the most successful year in Marquette athletics history?
Just two years ago, men's and women's basketball suffered through their worst respective seasons in over two decades. Volleyball was the only spectator sport out of seven to make the NCAA tournament that year. Four of those seven — men's and women's basketball, men's soccer and women's lacrosse — finished in the bottom half of the BIG EAST.
It seemed inconceivable in the summer of 2015 that Marquette athletics would have the kind of year that it just had. Five of the seven spectator sports made the NCAA tournament. Six Marquette teams out of 14 won either a regular season conference title or a BIG EAST conference title. Between women's soccer, women's basketball, men's lacrosse and others, you could pull up an online stream of a competitive Marquette athletic team on just about any weekend in the last eight months.
That got me thinking: was this the most successful all-around year that Marquette athletics has ever had? It's not a question you can definitively answer because success is such a subjective concept, especially regarding college athletics. Even if this question did have a right answer, I'm too young and possess too little perspective to confidently arrive at it.
I'm still curious, though, and there are some tangentially related questions that can be answered here. Is there any precedent for so many Marquette athletics teams winning conference titles in the same year? How does this season of Marquette sports compare to years past?
For the purposes of this column, we'll be taking a more holistic approach to these questions, weighing each team's season as equally as possible. This, of course, does not reflect reality, as men's basketball has an outsized impact on fan interest, university prestige, athletics revenue and a million other things compared to all the other sports. However, if we were to go by that standard, the only real candidates would be the 1977 national championship season and the 2003 Dwyane Wade Final Four year.
We're already able to eliminate a bunch of years from discussion simply by virtue of Marquette athletics being very different now than it was for most of its history. Men's basketball may have been around for 100 years, but women's basketball just finished its 41st. Both lacrosse teams are only in the fifth year of competition. Women's soccer, one of the university's most consistently competitive teams, didn't start play until 1993. It would be almost impossible for a season outside of the last 25 or so years to match this one in terms of overall accomplishment.
With that in mind, I reviewed the last 25 years of Marquette athletics and created an admittedly arbitrary scoring system to tally up traditional markers of success. Here's how it works:
BIG EAST regular season title: 2 points
BIG EAST tournament title: 2 points
NCAA tournament appearance: 1 point
Each NCAA tournament win: 2 points
It's hopelessly simplistic and doesn't account for pretty much every confounding variable ­ — disparities in conference, changes in NCAA tournament structure, new sports being established, etc. This is not scientific in any sense of the word. Instead, it's a system designed to give a rough estimate about which years were the most relevant, which will allow us to take a closer look at those years.
Now that we got the disclaimer out of the way, here's a chart of how many imaginary points got assigned to each year: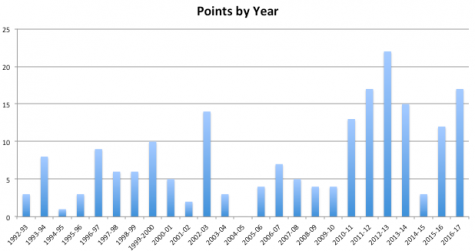 There are a few observations to be made before we get deeper into the chart. First of all, it's pretty clear that the graduating class of 2014 got to experience the best all-around four-year run in the history of Marquette athletics. Secondly, I found in the process of research that the only Marquette team besides men's basketball to ever make it to the second weekend of an NCAA tournament is women's soccer. They did it twice: in 2010 and 2012. Finally, 2004-'05 was the only year in the last 25 where no Marquette team won a BIG EAST title of any kind or made the NCAA tournament.
Anyways, this year tied 2011-'12 for the second-highest point total. Only 2012-'13 had more (22). Both of those years featured relatively high levels of NCAA tournament success, which accounted for a lot of their points. Men's basketball was at the end of an eight-year NCAA tournament streak where they made the Sweet 16 in 11-'12 and the Elite Eight the year after that. Women's soccer notched their own trip to the Sweet 16 in 2012. Volleyball won a tourney game in both of those years, while men's soccer won its lone NCAA tournament fixture in this time period in 2012.
This year didn't have that tournament success, as all five spectator sports to make their NCAA tournaments lost in the first round. Conference titles filled in the gaps, as no other year featured a greater percentage of Marquette teams winning either a regular season title or their sport's conference championship event.
Now we come back to the subjectivity of trying to measure success. 2016-'17 didn't have the most points on an arbitrary scale or a lot of postseason moments to talk about, but it is nonetheless distinctive. At no point in Marquette history have so many previously overshadowed sports broken on to the scene all at once.
The rise of men's lacrosse is well documented, but people may not know that women's outdoor track just won back-to-back BIG EAST championship meets even though they're only four years removed from finishing 13th at that same event. Men's golf captured the BIG EAST title for the second time in three years partly due to Matthew Bachmann, the conference's freshman of the year. Volleyball is in a historic upswing; the Golden Eagles made the last six NCAA tournaments after missing out for the first 25 years of the program's existence in Division I.
All of this is to say that for the first time in program history, the teams you haven't seen much of before are positioned to succeed just as much in the long term as the teams that get national acclaim. Of course, the spectator sports are more than holding their own and many of them are equipped for the future too. (Women's basketball comes to mind in particular.) There's just an across-the-board competitiveness now that didn't exist even 10 years ago. The days of 2002-'03, when men's basketball accounted for Marquette's only conference title and five of six NCAA tournament games, are gone. Next time men's basketball makes a deep tournament run, they're probably not going to be the only ones.
As the calendar turns to the 2017-'18 season, you may want to take a look at some of the less heralded Marquette sports. Although they don't match men's basketball in eyeballs drawn or tickets sold, they may end up matching or even exceeding men's basketball in titles won. It's hard to say whether this was the most successful season in Marquette history, but it's almost certainly the one with the greatest diversity of success.