New Athletic Performance Research Center has lacrosse coaches excited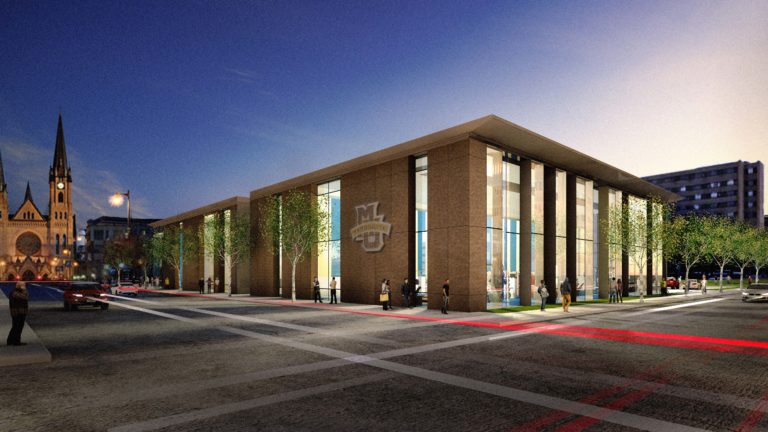 Men's lacrosse coach Joe Amplo and women's lacrosse coach Meredith Black could have easily felt disappointed after the announcement of the new Athletic Performance Research Center. The size of the first phase will hardly be 20 percent of the original plans and excludes a state-of-the-art indoor lacrosse field.
Instead, both coaches are ecstatic about what the $24 million, 50,000 square foot facility will include: locker rooms and support facilities for both teams.
"It's a very big upgrade for us," Amplo said. "It gives us an opportunity to further enhance our culture. Now these kids, these students, have a landing place, a place to call their own and an opportunity to just be around each other more."
"I'm so excited," Black said. "To me, even before an indoor field, I felt a locker room was a priority."
Once completed in early 2019, the lacrosse and golf programs will have permanent locker rooms. Currently, lacrosse players prepare for games in their residence halls. Members of Marquette's golf team have also lacked proper facilities.
Those facilities allow teams more than just a place to store equipment, according to Black. It also fosters camaraderie among the competitors.
"There's bonding. There are team interactions that don't happen, that can't happen without a locker room," Black said. "We're missing that at this point … I think this locker room will really enable us to be a team."
The new APRC also calls for weight rooms that can accommodate more athletes. Until now, the approximately 70 lacrosse players at Marquette have used the Al McGuire Center's weight room, which is designed for a basketball team of 15 people.
"Anytime we can have as many or all of our student-athletes in one place … that's only going to enhance our culture," Amplo said. "You put all of our team in a weight room and work out in a tough setting, that could be one of the biggest factors in our cultural development."
Ever since plans for the original APRC became public about two years ago, Black and Amplo have put the new facilities front and center in their recruiting pitches.
"Every player that comes out to look at Marquette asks about our locker room," Black said. "Now it'll be really nice to say 'Oh yeah, we'll have a state-of-the-art, brand new locker room.' It will make a difference."
A lot has changed from the original announcement, though. Initially, the university planned to locate the 250,000-square foot fieldhouse-style facility behind Straz Tower on a lot near N. 6th, 10th and W. Michigan Streets and the Marquette Interchange.
Now, the smaller facility will be built right across from the Al McGuire Center near the intersection of W. Wells and 12th Streets.

"The access (players) will have throughout the day and evening is perfect," Amplo said. "I could not think of a better place to put it."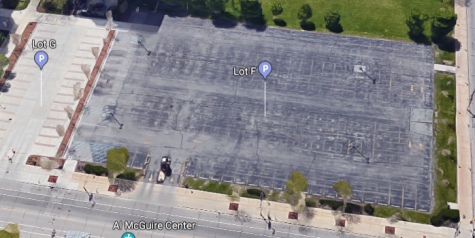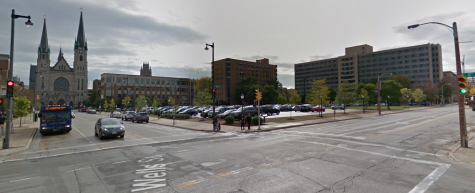 Scaling down the project meant cutting the indoor lacrosse and golf facilities. Lacrosse will continue to play its winter games under a seasonal dome with a capacity of 500 people. Fair-weather games are played at Valley Fields, which can hold 1,750 people. Both facilities are on the other side of the Menomonee River and Interstate 94 from the rest of campus.
"I'm pretty sure that the dome is at least a longer-term (solution) than what we expected, but I am OK with that," Black said.
The university also indefinitely shut down any plans for an indoor track. Track and field currently practices and stores equipment in Marquette Gymnasium, a 1920s-era building on the corner of N. 16th and Clybourn Streets across the street from the Helfaer Recreation Center.
"If you talk to our coaches, they would tell you that while it's not the world's best facility, they get a lot of their work done in the old gym," athletic director Bill Scholl said. "It's a serviceable facility for what they need to do."
The adjustment to the plans came despite back-to-back BIG EAST titles by the women's program.
Originally, the $120 million APRC was going to be built all at once, making it one of the most ambitious building projects in recent Marquette memory. Marquette is instead starting with one phase and could add another three phases.
No definitive dates have been set for the other phases. Their necessity will be evaluated after phase one's completion. Groundbreaking is expected in the coming weeks.
John Steppe contributed to this report.