Duo helped bring women's golf to campus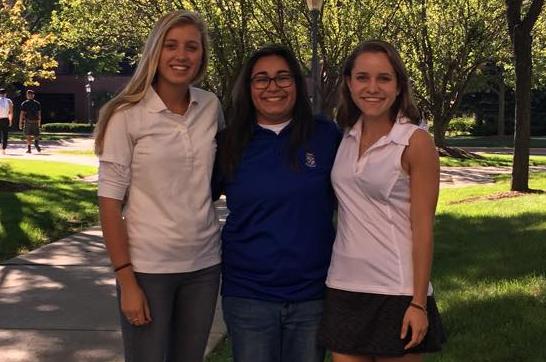 Marquette does not have a varsity women's golf team. Until 2016, they did not have a club either.
Sophomores Meghan Zech and Kathryn Cichon have changed that.
The still-new women's golf club will make its competitive debut this weekend, Oct. 8 and 9, at Lawsonia Golf Course in Green Lake, Wisconsin, for the National Collegiate Club Golf Association regional.
The idea for the women's club came from Zech, now the president, who was in the co-ed golf club her freshman year as the only woman on the team.
"From playing last year, I was pretty nervous because I went out and I was the only girl throughout all the teams, so that was a little intimidating," Zech said. "Throughout the year I kind of kept meeting people randomly, random girls who were like, 'Oh, I play golf and I miss it because I don't play in college anymore.' It was just about getting girls together who miss playing in college."
Zech met Cichon by happenstance in a class and they quickly bonded over their love of golf.
"I actually wrote a paper about golf," Cichon said. "It was after class and Meghan came up to me and was like, 'I kind of want to start this, what do you think?'''
The club began in the spring semester, but this semester will be their first chance to participate in competitions. They'll be the only women's team competing against men's teams. Zech listed some goals for their competitive debut, but also wanted to build a foundation for the new club to build on.
"By having this team Marquette will, as a total, have 24 players competing in each tournament which is way more than any other school, so that's pretty cool," Zech said. "If we win any of the tournament, we would qualify for nationals. So that's kind of our goal for the year, I'd say, but as a whole we just want people to enjoy it. There's different levels of players and competitiveness so being able to just work with everyone's interests."
"I'd say there's different kinds of levels of goals," Cichon said. "(Increasing membership and exposure) are definitely just like within our club, we're the founders and we definitely want to progress the club, but we also want to reach our competitive goal."
The club's 14 members have diverse experiences with golf. Zech and Cichon want to continue that so the club can grow and improve year after year.
"It's a pretty big range (of talent)," Zech said. "Both of us grew up playing but then there's some girls who've only been playing like a year, and then there's some who played in high school too, so it's a pretty big range."
"I think the demand is definitely there, and we just want to create that kind of environment where they feel comfortable enough to come out and join us and play and not take it as an intimidating thing," Cichon said. "But more of as an exciting thing and really have everyone else feed off that too."