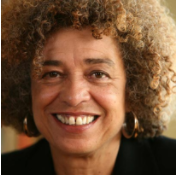 Civil rights activist Angela Davis drew a crowd of thousands to the Al McGuire Center March 29.
She was invited to speak this year as part of the Marquette Forum: Freedom Dreams Now. Davis was introduced by Angelique Harris, director of the Center for Gender and Sexualities Studies, Provost Dan Myers and University President Michael Lovell.
Lovell was met with boos from the crowd as he introduced Davis.
Maya Carter, a freshman in the College of Health Sciences, thinks that the negative reaction may have been due to the university's handling of Ben Shapiro. "There was this guy sitting to my right that just kept calling her a murderer the entire time," Carter said. "When the president came out, he started talking about how the university's standards shouldn't support a murderer and that they didn't welcome Shapiro, but they welcomed Davis."
The controversy surrounding Davis stems from a famous court case where guns registered under her name were given to men who staged a prison break in 1971. She was put on the FBI's Most Wanted list for months before she was detained. Davis was acquitted of all charges.
Brianna Hawkins, a senior in the College of Arts & Sciences and member of the Marquette Forum Coordinating Committee, said getting Davis to speak at Marquette was relatively simple.
"Jodi Melamed (an associate professor of English and Africana Studies) is friends with Angela Davis' partner," Hawkins said. "Contacting her was actually pretty easy."
Davis delivered a keynote address covering a wide variety of topics, including Palestine, Assata Shakur and President Donald Trump.
Davis related police brutality in personal terms, as she described the experience of being pulled over and having a "riot gun" pulled on her.
"(Lennox Hinds, Assata Shakur's attorney) hosted an event to raise funds for her legal defense, which was a very successful event," Davis said. "He invited many of us over to his home for an after-party. We were enjoying a short journey to his house when the car I was riding in was pulled over by the police. … Some people were asked to get out of the car, I was told to remain in the car. … Lennox doubled back with his bar card to prove that he was an attorney, and as he was approaching, one of the police pulled out a riot gun. It became so clear in that moment that if any of us had made any inexplicable movement, that people would be dead."
The story ended with the civil rights activists getting a federal escort across the George Washington Bridge in New Jersey.
Davis also was critical of Marquette for removing a mural of Shakur in 2015 that the former Gender and Sexuality Resource Center displayed. Davis said that there was great irony that one of them was removed and the other was invited to speak, as she affectionately referred to Shakur as a "comrade and friend."
"The point that I'm trying to make is that the ideologically produced response in some circles is to automatically refer to her as a cop killer, which prevents us from understanding the way in which her energy has been used to criminalize radical anti-racist struggles today," Davis said. "People rarely resort to researching the 1973 charges against Assata, … it was proven that she herself was shot with her arms in the air. The arm that she would have used to wield a weapon was paralyzed."
However, Davis provided the audience with glimmers of hope. She has faith that a new age of anti-capitalism is rising. "The struggle for justice is not a moment, but a continuum," Davis said.
Carter said she was happy the talk included representation of all oppression. "That was the most notable thing for me," Carter said. "She was never just talking about black people. She was talking about everybody that was oppressed."
The speech was the last major event of the Marquette Forum.